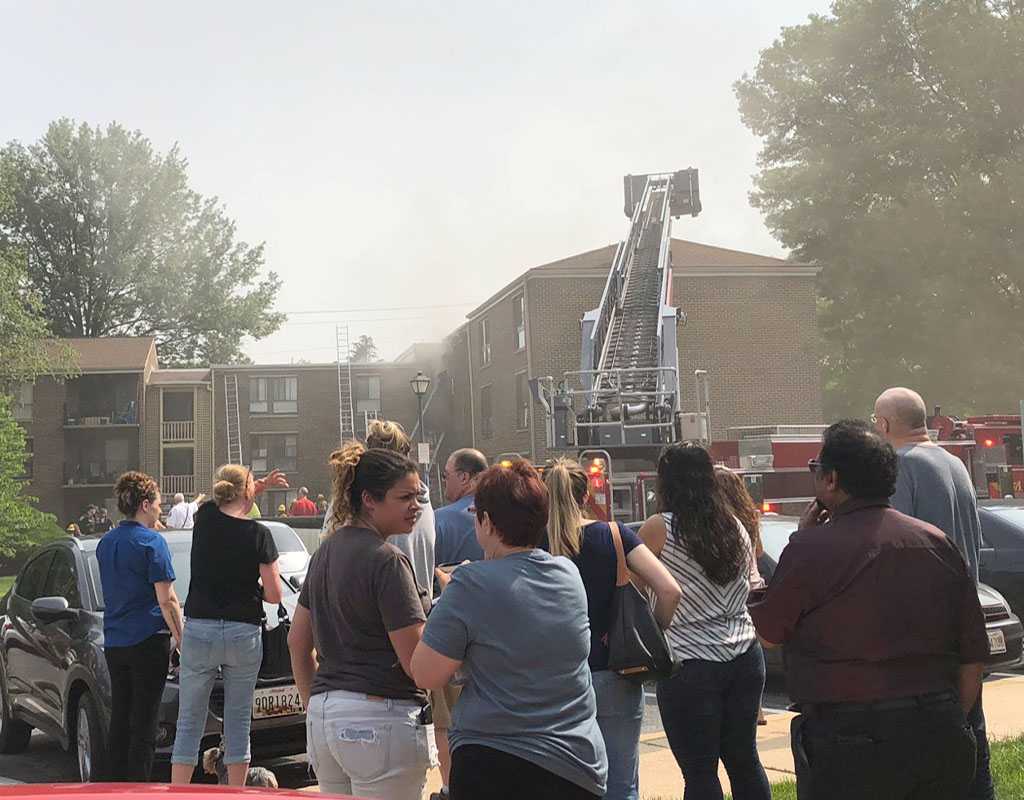 Overheated Stereo Causes Olney Apartment Fire, Displacing Dozens
An electrical fire at the Camelback Village apartments in Olney on Saturday has displaced more than 20 adult residents, 10 children, and several pets, according to Pete Piringer, the Montgomery County Fire and Rescue spokesperson.
The apartment is located at 3226 Spartan Road off of Route 108. Scott Goldstein, MCFRS's fire chief, said on Twitter that 911 was called about smoke in the building after 9 a.m. on Saturday, and more than 100 firefighters responded to the emergency.
UPDATE – 3226 Spartan Rd, Olney; Cause, overheated electronics/stereo, insufficient clearance; Area of Origin, floor level, main bedroom (stereo system on shelf surrounded by ordinary combustibles); Damage nearly $1M; Displaced, 20 adult/10 children/pets; 1civ & 1 FF NLT injury pic.twitter.com/TYg8JGvDWQ

— Pete Piringer (@mcfrsPIO) June 1, 2019
The fire started in a first-floor bedroom. Piringer said that the cause of the fire was a "stereo" malfunction that had "insufficient clearance" — the stereo was located on a shelf and was "surrounded by ordinary combustibles."
MORE…. Olney, MD @MontgomeryCoMD several passerby's saw smoke & assisted residents from the apartment prior to arrival of @mcfrs units, dozens of people likely to be displaced,@MCFRS_EMIHS transported several persons, incl 1 Ff all w/ NLT injuries – hear what Scott Teague says pic.twitter.com/aUU7SQQHZe

— Pete Piringer (@mcfrsPIO) June 1, 2019
Piringer said that several residents were evaluated by EMS for smoke inhalation. One firefighter and one civilian faces "non-life threatening" injuries from the fire, Piringer said.
Red Cross came to help residents and Piringer said Pepco was also at the scene. The damage from the fire is estimated to be about $1 million, Piringer said.
Fire officials also noted that several neighbors in the area "jumped into action" before firefighters even arrived at the scene.
Fire in Olney Apartment
Here's a real-time look at the chaos the fire brought to the Olney community Saturday morning. The fire caused road closures in the surrounding areas.
Traffic Advisory – Rt108 Olney Laytonsville Rd & Spartan Rd, Olney, @mcfrs FD activity, PD directing, Portions of road closed, some lanes BLOCKED pic.twitter.com/UUX7E5jVVY

— Pete Piringer (@mcfrsPIO) June 1, 2019
Camelback Village Apts, Spartan Rd, Olney, 3-Alarm Fire, 3-Stay apt bldg, electrical in nature, several NLT injuries, ~100 @mcfrs FFs on scene, Red Cross assisting, > 3 dozen residents displaced, Portions of Rt108 & Spartan Rd CLOSED pic.twitter.com/uKmJOEmBdv

— Pete Piringer (@mcfrsPIO) June 1, 2019
— Pete Piringer (@mcfrsPIO) June 1, 2019
Update – 3rd Alarm – Spartan Rd. Olney, apt bldg, electrical fire pic.twitter.com/vPmlrjeMEF

— Pete Piringer (@mcfrsPIO) June 1, 2019
— Pete Piringer (@mcfrsPIO) June 1, 2019
2nd Alarm Spartan Rd, Olney https://t.co/yMwhgLSWRv

— Pete Piringer (@mcfrsPIO) June 1, 2019
Update -2nd Alarm – 3200blk Spartan Rd, residential apartment building pic.twitter.com/1hOS1IjeIM

— Pete Piringer (@mcfrsPIO) June 1, 2019