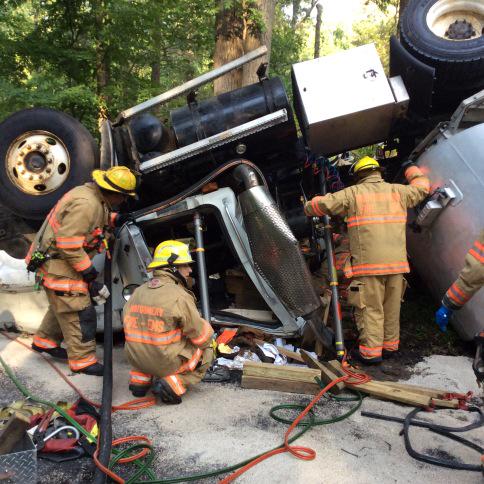 Overturned Tanker Truck in Poolesville Area (PHOTOS)
Montgomery County firefighters are on the scene of an overturned tanker truck on Club Hollow Road in the Poolesville area.
Fire and Rescue Services Spokesperson Pete Piringer said the driver of the truck was severely pinned under the overturned vehicle and had to be extricated. Piringer said the driver was transported by a medical helicopter as a priority one patient to a local hospital.
Piringer reports a significant fuel spill in the creek at this location as well.
There are significant road closures in this area as the fire department works to help clean up the fuel spill.
More…driver was severely pinned under overturned vehicle, he has been extricated & being relocated to Medevac Heli pic.twitter.com/Xijw1gK6Hh

— Pete Piringer (@mcfrsPIO) June 25, 2015
Club Hollow Rd, Overturned fuel tanker, driver is extricated, HazMat on scene, significant fuel spill into creek pic.twitter.com/WfRW2aYDhZ

— Pete Piringer (@mcfrsPIO) June 25, 2015
Update – Club Hollow Rd, trapped/pinned driver of fuel truck has been extricated, EMS evaluating, 1 adult male Priority1 trauma

— Pete Piringer (@mcfrsPIO) June 25, 2015
More..MDE Md Dept of Environment & Shock Trauma 'Go Team' are also enroute, fuel leaking into creek, 1st priority is severely pinned person

— Pete Piringer (@mcfrsPIO) June 25, 2015
Traffic Advisory – hazmat incident on Club Hollow Rd….expect FD activity in Poolesville using fire hydrants to fill water tankers

— Pete Piringer (@mcfrsPIO) June 25, 2015
Traffic Advisory – Club Hollow Rd near Trundle Rd CLOSED, Several other roads in area will be BLOCKED due large fire/rescue response

— Pete Piringer (@mcfrsPIO) June 25, 2015
More…..Club Hollow Rd – medium sized fuel tanker, driver pinned/trapped, tanker leaking into nearby creek, also Medevac helicopter enroute

— Pete Piringer (@mcfrsPIO) June 25, 2015