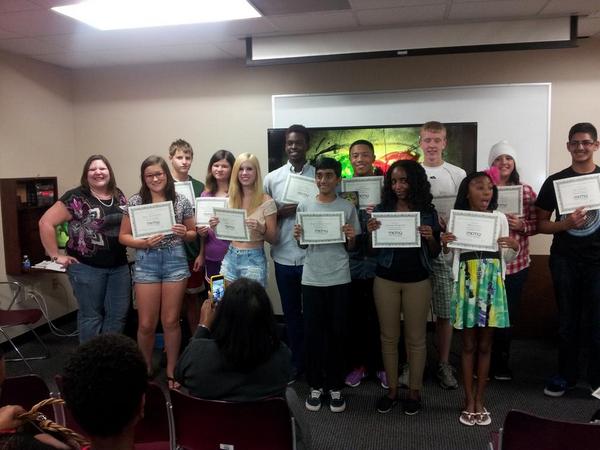 Packed House (Photos)
As the smell of popcorn filled the air in MCM's classroom, our journalists and guests began to arrive to the Screening Party.
An array of snacks were on hand as well as some goodies from the journalists themselves. The lobby outside of the classroom was set up for interviews with our journalists.
Apparently it looked "fancy" with the lights and background.
With snacks in hand, seats were claimed and the show was about to begin. Each journalist was able to tell everyone about their project before or after we viewed them. After all 14 projects were viewed; certificates and DVD copies of projects were handed out. Our newly certified journalists posed for photos and we ended the evening on a high note.
It was a packed house for our 2014 Summer Backpack Journalism Academy screening party. Fifty-five (55) people to be exact in attendance.
It was a great summer, full of energy and excitement. I told you before how proud I was of all of my students and I was finally able to share with their families and friends how amazing they were! I can't wait until the next session!
Here's a look at our Screening Party: