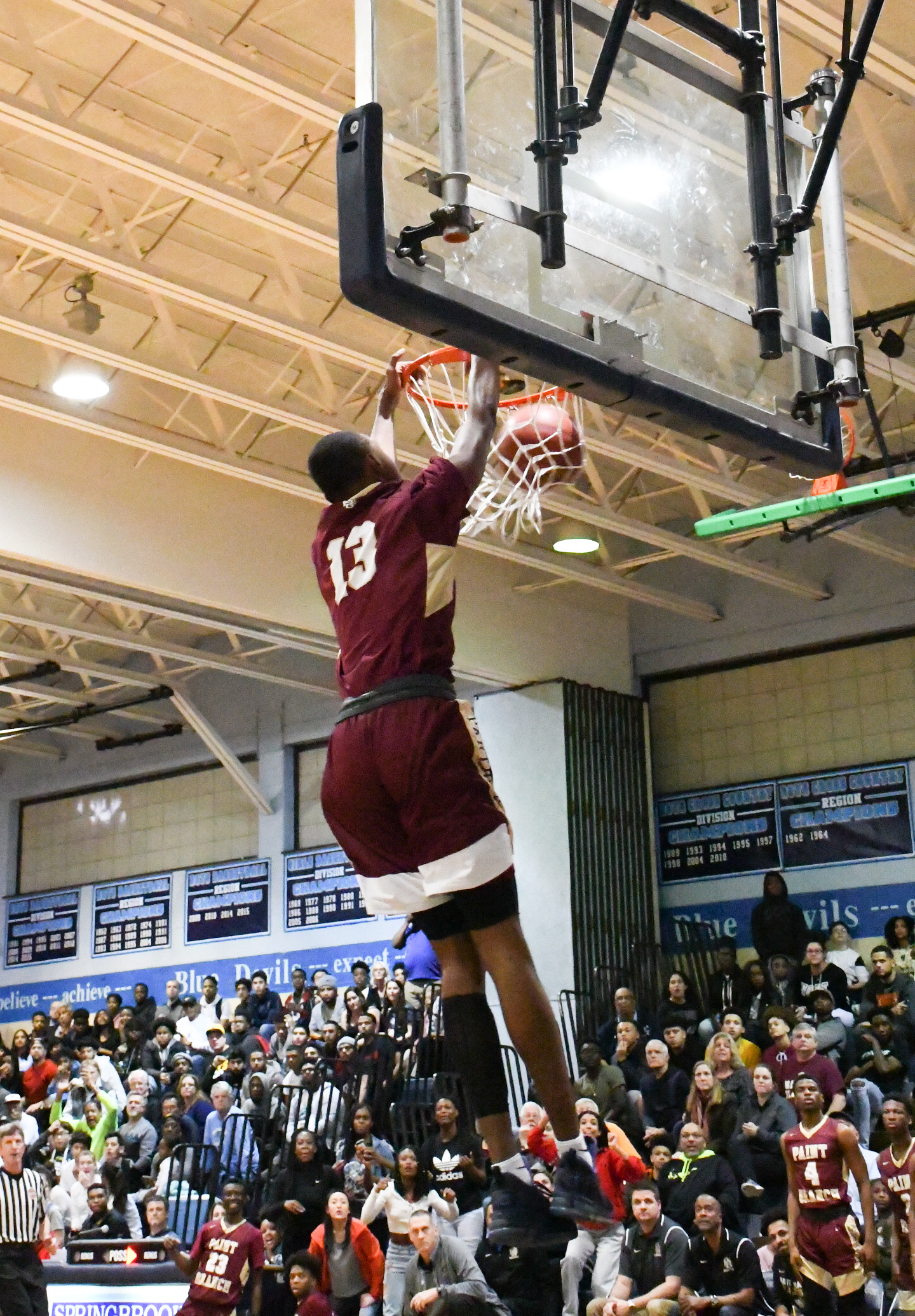 Paint Branch Defeats Springbrook to Move on in State 4A Playoffs
Springbrook High School, Silver Spring, Maryland Wednesday February 28th 2018
Beginning with the tip off the boys 4A playoff game between Paint Branch and host Springbrook was off to a flying start. Springbrook could not find the range and missed many shots they normally make. Those misses allowed Paint Branch to get off to a very quick start. Eight unanswered Panther points within the first two minutes of the game and with two minutes remaining in the first quarter it was Paint Branch 16 Springbrook 6.
Agressive man to man defense resulted in Springbrook turnovers and Paint Branch's dominance in rebounding resulted in a comfortable 34-28 half time lead.  During the third quarter Springbrook tied the game at 39 all, that was as close as they would come to Paint Branch all night.  Paint Branch took off on a two minute 8 to 2 run and the quarter ended 47-41.  At that time in the game Paint Branch kicked their play into high gear and they never looked back outscoring Springbrook 27-13 in the final quarter. The final score Paint Branch 74 Springbrook 54.
The Panthers play host to Perry Hall of Baltimore at 6 p.m. Friday night.
Scoring for Paint Branch
#5  R. Dudley              25 pts
#33 C. Mayaka             12 pts
#4  B. Miller                  11 pts
Scoring for Springbrook
#21  Cameron Rucker   22 pts
#10  Delaino Jessup      15 pts
#14  Timirus Hawkins  9 pts
Pictures to follow by Daryl Schultz