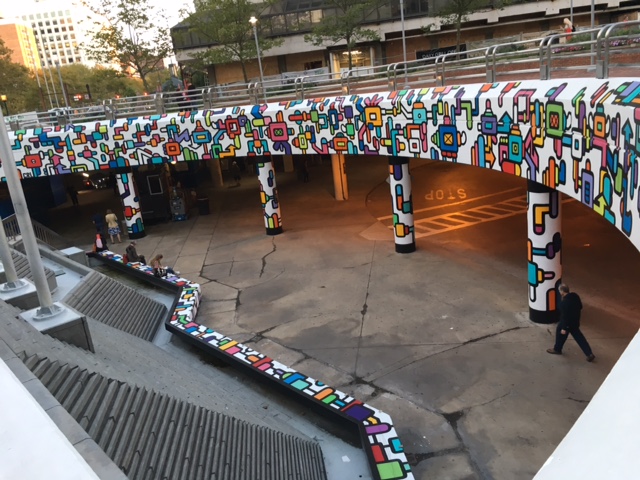 "Paint the Town" Mural Dedication Set for Oct. 13 in Bethesda
The Bethesda community is planning to honor mural artist Juan Pineda at a dedication ceremony for his "Paint the Town" mural at Bethesda Metro Center. The ceremony is planned for 10:30 a.m. on Oct. 13.
"We are thrilled that our second 'Paint the Town' mural has been completed," said Cathy Bernard, president of the Bethesda Arts & Entertainment District. "Because of the partnership and generosity of Brookfield and Arts Brookfield along with the Bethesda A&E District, the Metro Bus Bay area is now a vibrant and inviting welcome to visitors and residents in downtown Bethesda."
"Juan has created a truly remarkable piece of art that brings color and life to the Plaza," said Simon Carney, senior vice president with Brookfield. "His mural is a fitting debut for our Arts Brookfield program in the D.C. region and provides a glimpse of the transformation we plan for Bethesda Metro Center."
Pineda's mural is part of the second installment of "Paint the Town," an initiative to promote more public art murals in downtown Bethesda.
According to a news release, Brookfield provided its property at 3 Bethesda Metro Center as the canvas for the mural and together with The Meridian Group, funded the project. Arts Brookfield worked with Bethesda Urban Partnership and the Bethesda A&E District to commission the mural, selecting Pineda from a pool of 50 local artists.