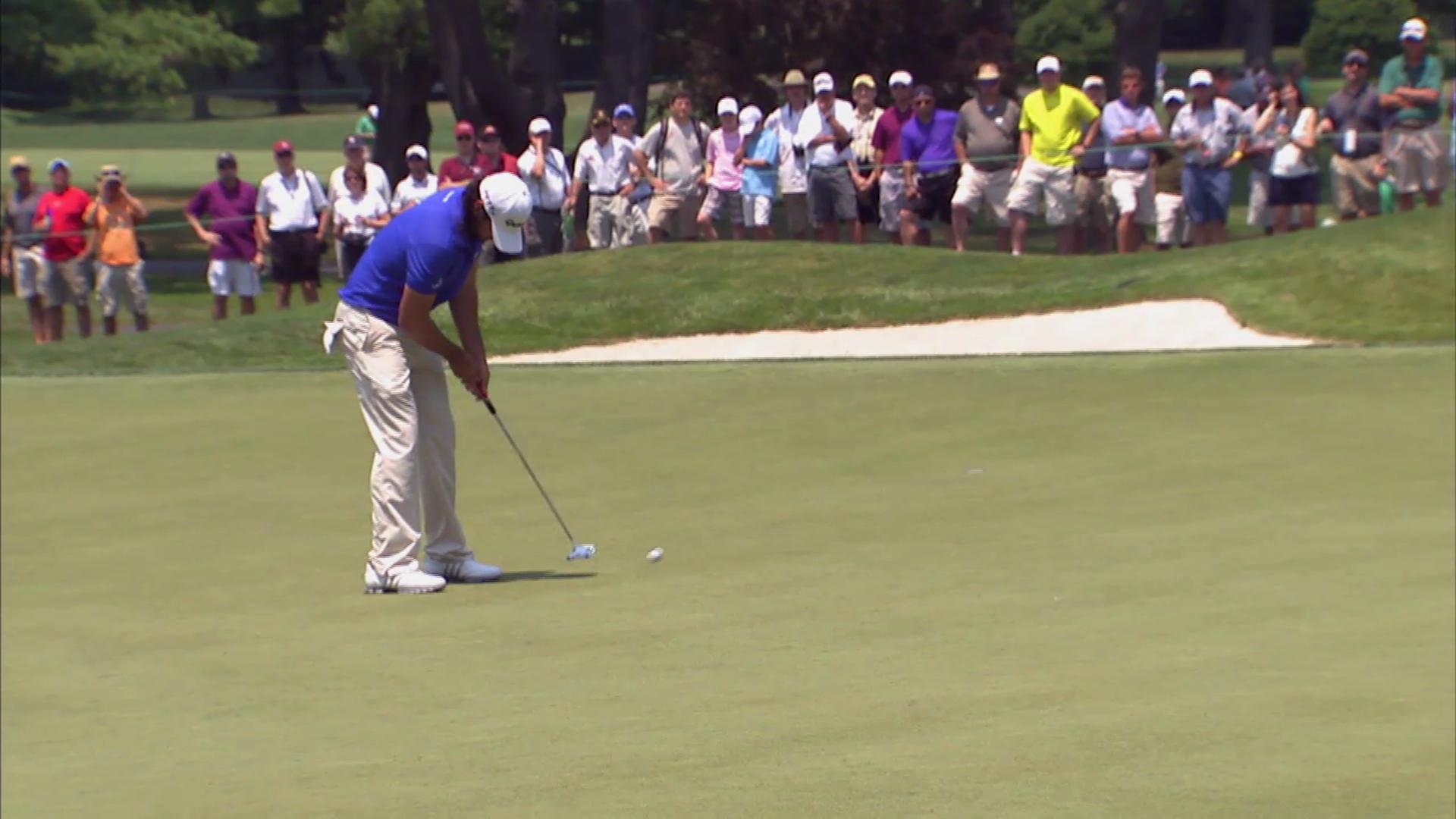 Parking for Quicken Loans National Tournament (Video)
The Quicken Loans National Tournament will be held at Congressional Country Club in Bethesda, June 23 through 29.
Many County departments and agencies have been working on pre-tournament arrangements and logistics with representatives from the PGA TOUR and Tiger Woods Foundation to help spectators get to and from the tournament and to enjoy the overall experience.
Public Parking and Shuttle Bus Options
County officials remind anyone planning to attend the tournament that, if driving, they must use one of the official tournament parking and shuttle lots. There is no tournament general admission parking available in the immediate vicinity of the golf course.
Public parking for the tournament is available at:
Rock Spring Lot, 6720 Rockledge Dr., Bethesda (seven miles from Congressional at I-270 and Democracy Blvd.) This is the best location for those coming from Virginia and other areas south of Congressional Country Club. Operating: Tuesday, June 24-Friday, June 27, 6 a.m.-7 p.m. Saturday, June 28-Sunday, June 29, 7 a.m.-7 p.m. Single-day and weekly passes available.
Montgomery County Fairgrounds, 16 Chestnut St, Gaithersburg. Operating: Thursday and Friday only, from 6 a.m. to 7 p.m. A single-day pass (Thursday or Friday only) is $7. Cost includes one-day parking and shuttle pass from the Fairgrounds to Congressional Country Club (less than 15 miles). Get single-day pass for Fairgrounds.
Shuttles will depart from both lots approximately every 15 minutes, depending on traffic conditions. Security checks will be conducted on all passengers prior to boarding the bus. No bags larger than 6"x 6" x 6" will be allowed.
VIP Preferred Parking Lot F, 7727 Persimmon Tree La., adjacent to tournament main entrance, providing walking access to tournament. Operating: Tuesday, June 24-Friday, June 27: 6 a.m.-7 p.m. Single-day passes are available for specific days, ranging from $30 to $50, depending on the day of the week.
Public Transportation

Tournament and County public safety and transportation officials remind spectators that no public walk-ins are allowed through the main entrance of Congressional Country Club on River Rd. The closest bus stops are noted below.
T2 bus from Friendship Heights and Rockville (operated by Metro on weekdays and by Ride On on weekends). On Saturday, June 28 and Sunday, June 29 – as a convenience for spectators using public transit — route T2 Ride On buses will operate every 15 minutes from 4 to 8 p.m. between the Friendship Heights and Rockville Metro Stations. The service operates every 30 minutes between 7 a.m. and 4 p.m. The additional service will be operated as regular T2 service and will be open to all passengers. Regular Ride On fares will apply. The last scheduled trip in the evening in the direction of Rockville Station will pass through the intersection of River Rd. and Bradley Blvd. at 8:04 p.m.; the last trip passing through that intersection in the direction of Friendship Heights Station will be at 8:10 p.m. Bus operators working the additional T2 service will be provided a schedule. Passengers should use stops on River Rd. just west of Bradley Blvd.
Ride On bus 36 from Bethesda (no Saturday or Sunday service). Use the stops at the end of the route on Bradley Blvd. at the Connelly School.
After departing the bus, walk south on Bradley Blvd. and follow signs and directions to the shuttle that will drop off passengers at the tournament's main entrance. Attendees who prefer to walk should go south on Bradley, then left on Persimmon Tree Rd. and proceed to Persimmon Tree La. and the tournament's main walk-in entrance.
Public Safety Reminders for Pedestrians

Pedestrians walking along Bradley are reminded that they must cross only at marked crosswalks and stay alert for oncoming traffic. The public should also be aware that the only authorized exit from the Country Club grounds is the tournament main entrance on Persimmon Tree La.
Taxi/Limo/Private Vehicle Drop-Off & Pickup

Tournament and County public safety and transportation officials remind spectators that no public drop-offs or pickups are allowed in or around the main entrance of Congressional Country Club on River Rd. Spectators who wish to be dropped off at Congressional must utilize the designated taxi, limousine or private vehicle drop-off, located near the Tournament Main Entrance on Persimmon Tree La. No parking or standing is allowed, so attendees are asked to coordinate their pickup times accordingly.
Bike Racks
Spectators who want to bike to the tournament are reminded that bike racks are available at the Tournament's Main Entrance on Persimmon Tree Lane.
More information about do's and don'ts on the course and other details about the tournament are available at Spectator Information on the tournament website.
Related: