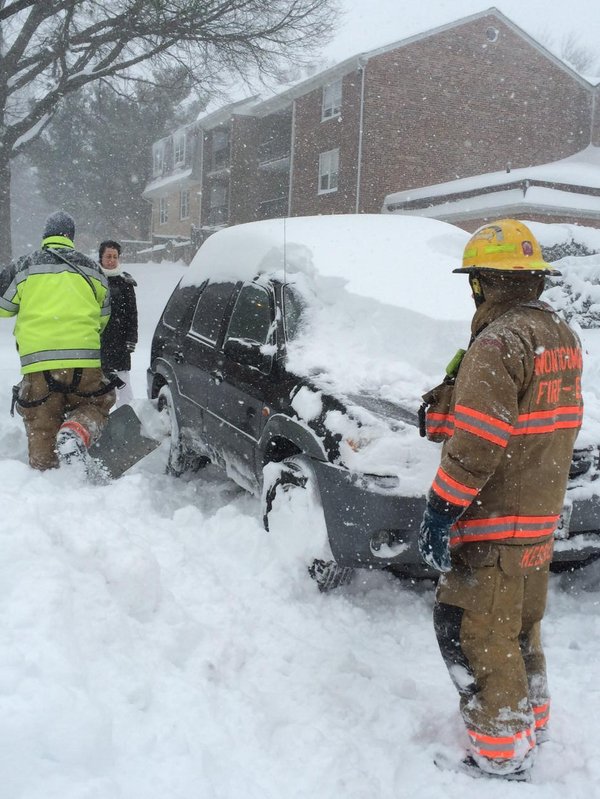 Partial Roof Collapse at Gaithersburg Condo Building (PHOTOS)
Montgomery County firefighters responded to a partial roof collapse at the Potomac Oaks Condominiums in Gaithersburg on Saturday morning.
It happened at 766 Quince Orchard Boulevard at the condominium building's boiler and utility room.
Fire and Rescue Spokesperson Pete Piringer said there were no injuries but over 200 residents were left without any heat.
MoCo Emergency Mgt on scene Quince Orchard Blvd working w/ condo mgt, possible evacuations due to no utilities pic.twitter.com/xlJlMFX32q

— Pete Piringer (@mcfrsPIO) January 23, 2016
Potomac Oaks Condos, mcfrs FFs assisting residents, most sheltering-in-place, boiler bldg partial roof collapse pic.twitter.com/LwsTkzSQVD

— Pete Piringer (@mcfrsPIO) January 23, 2016
Potomac Oaks Condos, MCFRS 'Life-Safety Task Force' on scene handling utilities assisting fire/rescue/EMS units pic.twitter.com/ess2doodSL

— Pete Piringer (@mcfrsPIO) January 23, 2016
Quince Orchard Blvd, partial roof collapse, power/gas off, >225 Potomac Oaks Condos, shelter-in-place, no heat pic.twitter.com/kxnFnG2fNi

— Pete Piringer (@mcfrsPIO) January 23, 2016
(9a) 766 Quince Orchard Bl, Potomac Oaks Condos, partial roof collapse, boiler/utility bldg, no inj, gas & power compromised

— Pete Piringer (@mcfrsPIO) January 23, 2016