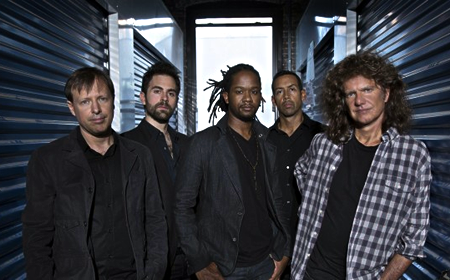 Pat Metheny Unity Group at Strathmore (Video)
Jazz innovator Pat Metheny performs with the Pat Metheny Unity Group March 21 at 8 p.m. at the Music Center at Strathmore, 5301 Tuckerman Lane, North Bethesda. Winner of 20 Grammy Awards, Metheny brings his new group of jazz masters performing selections from his latest album Kin (←→). Musicians Chris Potter, Antonio Sanchez and Ben Williams and Giulio Carmassi join Metheny.
On Kin (←→) Metheny's bandmates are pulling double, triple and quadruple duty to achieve the full, electronically-influenced sound Metheny envisioned. In addition to contributing his usual tenor and soprano saxophone skills, Chris Potter is featured on half a dozen woodwind instruments in the ensemble, while Ben Williams is featured as soloist not only as a traditional acoustic bassist, but also on electric bass and, in one case, trading solos with Potter—showing off his arco bowing technique. Drummer Antonio Sanchez is front and center on the album, as is Metheny's preference, yet the drumkit weaves a constant string of textural surprises into the album.
Multi-instrumentalist Giulio Carmassi is piano accompanist to this fluent core of players. In creating a sense of richness that goes beyond the more traditional quartet sound of Unity Band, Carmassi adds trumpet, French horn, flute, alto sax, recorder, vibraphone, whistling, trombone, and evocative vocals to Kin (←→).
All of these influences combine with Metheny's own electronic, orchestrionic and synth orchestrations to create an album that sees the jazz favorite reinventing himself once again.
A free pre-concert lecture presented by Dr. Wayne Goins, author of Emotional Response to Music: Pat Metheny's Secret Story (2001) is offered in Education Center Room 402 at 6:30 p.m.
Tickets are $39 – $81 and may be purchased by calling 301.581.5100 or online at the Strathmore website.