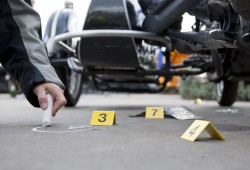 Pedestrian Fatality in Wheaton
Updated May 17: The pedestrian victim, Mary Josephine Fish succumbed to her injuries at Suburban Hospital on May 17.
Montgomery County Police Collision Reconstruction Unit (CRU) detectives are investigating a serious pedestrian collision that occurred today (May 16) at approximately 9 a.m. in the area of Veirs Mill Road at Georgia Avenue in Wheaton.
According to police, the preliminary investigation revealed that a white 1998 Honda Accord and a white 2012 Nissan van (NV 2500) were traveling southbound on Veirs Mill Road before it intersects with Georgia Avenue. Police said the driver of the Honda made an unsafe lane change from the middle lane to the left lane and struck the Nissan which was traveling in the left lane. The impact of the collision propelled the Nissan up onto the curb of the roadway where it struck a pedestrian who was walking on the median, according to police.
Police have identified the pedestrian as Mary Josephine Fish, age 52, of the 11500 block of Cordwall Drive in Beltsville. Fish was transported to Suburban Hospital where she is being treated for potentially life-threatening injuries, according to police.
Police identified the driver of the Honda as Felicitas Cayo Carpio, age 37, of the 1000 block of University Boulevard East, in Silver Spring. According to police, the driver of the Nissan was Eric Seeling, age 26, of the 4500 block of N. Woods Trail in Hampstead, Maryland. Police said neither driver was injured in the collision.
The circumstances surrounding this collision remain under investigation. Anyone with information regarding this collision is asked to contact the Collision Reconstruction Unit at 240.773.6620. Callers may remain anonymous.