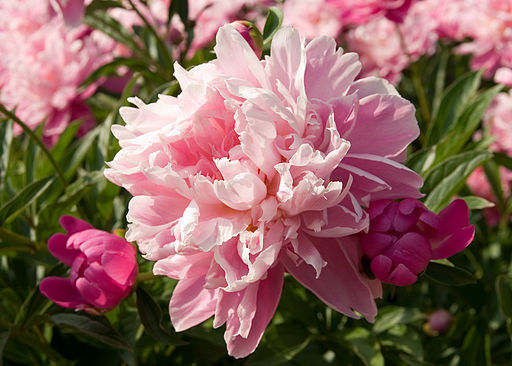 Peony Garden Celebration in Gaithersburg
Gaithersburg celebrates the Schwartz Peony Garden today (April 27) from 10 a.m. to 4 p.m. at the Gaithersburg Community Museum, 9 South Summit Avenue, Gaithersburg.
Have your spring gardening questions answered by expert gardeners, find out more about the city's reimbursement program for environmentally responsible gardening practices, sign up for the peony photography contest, and explore the history of the peony in Gaithersburg with family and friends. The free event also features children's crafts, an exhibit on art from the original garden, plein air artistry, and spring bulbs and peony roots for sale. Additionally, visitors are invited to view model train displays from the BANTRAK T Trak Division, tour a caboose, and visit a 1918 steam locomotive during "Train Day," happening simultaneously at the Museum.
In honor of artistry, history, and horticulture, the Community Museum will recognize the contributions of local artists during the celebration with a silent auction featuring artistic interpretations of peonies by members of the Harmonious Art Group and the Gaithersburg Fine Arts Association and other local artists. All attendees are invited to vote on their favorite piece, with the winning artwork being incorporated into a commemorative ornament marking the garden's centennial anniversary. Contributing artists include Elise Chang, Amy Quach, Joan Reynolds, Lynne Rychlec, and Joanne Wood.
The building that now houses Gaithersburg City Hall was once the home of Edward P. Schwartz who, in 1913, established a famous peony garden on five acres of land that stretched from the railway station to Hutton Street. The "World Famous Schwarz Peony Garden" boasted 410 varieties of peonies from all over the world. Each spring the garden was a tourist attraction visited by admirers, including President Woodrow Wilson.