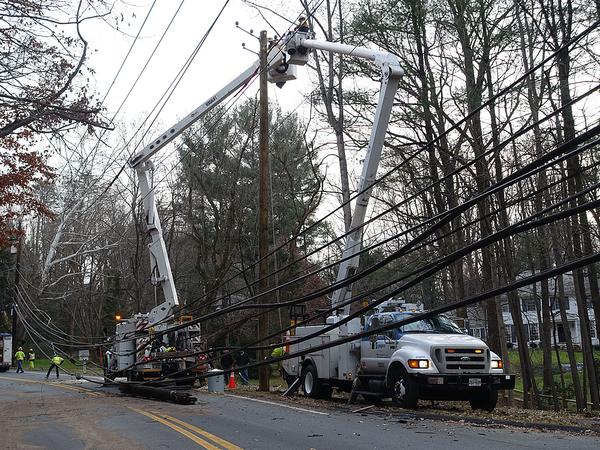 Pepco: Crews Working to Restore Power
Pepco said Friday morning that all available personnel are responding to restore service as safely and quickly as possible.
More than 55,000 Pepco customers across the region have lost electrical service from the rain and 70 mph winds, the company said in a statement. As the high winds continue through the day and evening, so could damage and outages, the company said.
As of 10 a.m. Friday, about 35,000 customers remain without service – 11,000 in the District of Columbia and 26,000 in Montgomery and Prince George's counties in Maryland. The company has 842,000 customers in the metropolitan region.
Pepco has already restored service to more than 19,000 customers across the service territory.
With storms continuing to move through the region and damage still occurring, it is too early to determine when service will be restored to all customers.
Pepco crews will continue to work around the clock to assess the damage and make repairs safely and efficiently. Due to the high winds, crews may be unable to use certain equipment, including bucket trucks, to restore service.
Safety is our top priority, for our employees, our customers and the communities we serve. We urge our customers to stay away from downed wires and assume any downed wire is energized. To report an outage or downed wire, call 1-877-PEPCO-62 (1-877-737-2662) or report and track through our mobile app or our website at www.pepco.com.
Customers should be prepared for outages caused by high winds:
Have a flashlight with fresh batteries on each floor of your home.
Have a supply of bottled water and easy-to-prepare, non-perishable foods available.
Charge cell phones and other mobile devices.
More tips are available at www.pepco.com.
To learn more, readers are encouraged to visit The Source, Pepco's online news room. Find additional information about Pepco by visiting www.pepco.com.
The company also has enhanced staffing in place in the company's call center, dispatch centers and in the field to respond to customer needs.