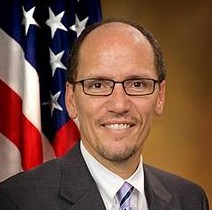 Perez Nominated as U.S. Secretary of Labor (Video)
Video of President Barack Obama Nominating Tom Perez for Secretary of Labor

Governor Martin O'Malley today issued the following statement on President Barack Obama's nomination of Thomas Perez as U.S. Secretary of Labor:

"I am pleased that President Obama has nominated Tom Perez for U.S. Secretary of Labor. Tom served as a valuable and outstanding member of my Executive Cabinet as Maryland Secretary of Labor, Licensing and Regulation.
"Under his leadership in Maryland, he worked diligently to find innovative ways to protect our State's workforce in the toughest of times. From foreclosure prevention to living wage implementation to workforce development and skills training, Tom established an aggressive portfolio that helped Marylanders weather a changing new economy.
"I am confident that he will serve the American people well as the nation's economy continues a strong recovery."
Perez served in the O'Malley-Brown Administration's Executive Cabinet from 2007 until 2009, when he was selected join the Obama Administration as Assistant Attorney General for the Civil Rights Division of the United States Department of Justice.
Statement by Montgomery County Executive Ike Leggett and John Kane, CEO of the Kane Company on the nomination by President Barack Obama of Thomas Perez to be US Secretary of Labor:

"One of us chaired the Maryland Democratic Party, the other the Maryland Republican Party. But whether you hail from the party of Lincoln and Reagan or from that of Jefferson, Jackson, and FDR, all should welcome the nomination by the President of Tom Perez as the next United States Secretary of Labor.
"Tom's rise from humble, immigrant roots to positions of leadership in Montgomery County, the State of Maryland, and the federal government is a success story that could happen only in America. He has never forgotten where he came from. Agree with him or not, Tom is fair, honest, and willing to listen to all sides, and search for common ground. He is upfront in his passion to make sure America is truly a land of freedom and opportunity for all, and that everyone has a seat at the decision-making table.
"Montgomery County and Maryland, Republicans and Democrats, and non-affiliated individuals can be proud of this nomination. We wholeheartedly support Tom Perez as Secretary of Labor. He has the experience and the passion, the values, and the intellect to really make a positive difference for our great nation."