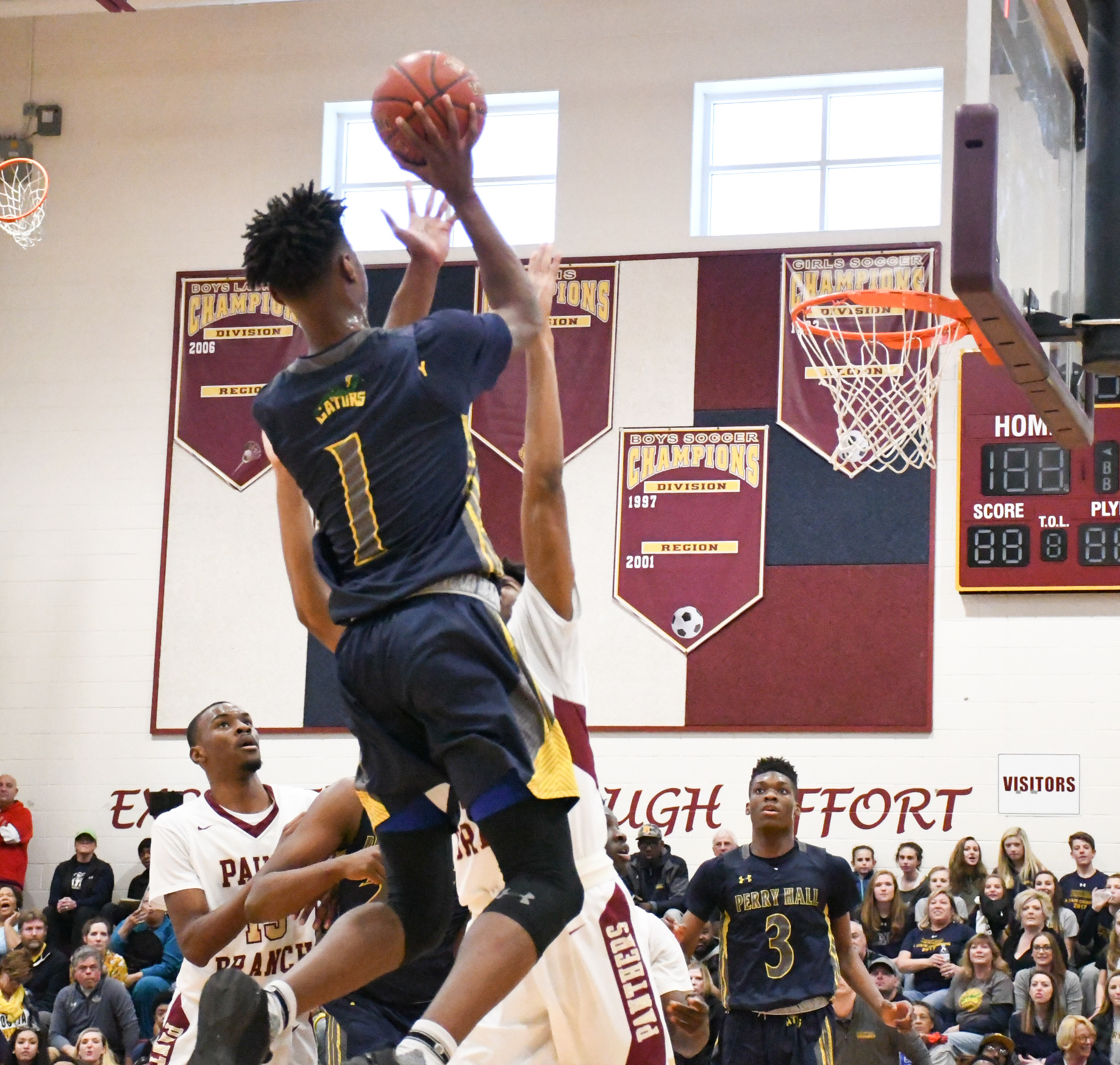 Perry Hall Defeats Paint Branch in the 4A North Regional Championship
Paint Branch High School, Burtonsville, Maryland Saturday March 3, 2018
Paint Branch has had an outstanding 2017-2018 season, unfortunately it came to an end Saturday afternoon when Perry Hall, the defending Maryland 4A State Champions came to the Panther home court.  The Gators came with a considerable size advantage which initially did not seem have an impact on the play of the Panthers.  The game was close in the first quarter as a result of continually accurate three point shooting by Paint Branch.  That torrid pace continued throughout the second quarter and the half ended 46-41 Panthers, capped by a buzzer beating three point shot be #5 Richard Dudley who lead all scorers in the half with 25 points.
The second half began with two specific Perry Hall goals in mind, shutdown #5 Richard Dudley and pound the ball inside.  The score was close and back and forth but the Gators did prevent #5 Richard Dudley from scoring, limiting him to only 2 third quarter points.  The second goal of Perry Hall to pound the ball inside lead them to a 26 to 11 point third quarter tally which lead to a 67-57 lead going into the fourth quarter.  The momentum had completely swung in the Gators favor and the Panthers could not mount a comeback.  The final score was Perry Hall 88 Paint Branch 75.
Perry Hall again returns to the state semifinals and will face the Trojans of Gaithersburg on Thursday night this week.
Scoring in double figures for Paint Branch
#5   Richard Dudley      33 points
#4   Bobby Miller          17 points
#23 Chris Mayaka         10 points
Scoring in double figures for Perry Hall
#1   Laquil Hardnett      26 points
#3   Anthony Walker     25 points
Pictures to follow by Daryl Schultz