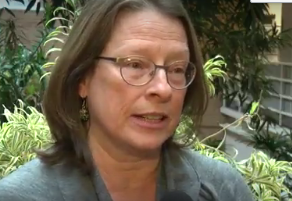 Planners Share Community's Concerns about Possible Cemetery Site in Westbard (VIDEO)
Montgomery County planners say they share a church community's concerns about a possible African-American burial site in the Westbard section of Bethesda near River Road.
"We want to find out if there are human remains or burial shafts in the area that was historically a cemetery," said Planning Director Gwen Wright in an interview with MyMCMedia.
"This needs to be investigated," said Wright. "We need to make sure that anything moving forward in the area of where there may have been a cemetery, that those issues are taken into account, and that that area is respected."
The parcel in question is now a parking lot, adjacent to the Westwood Towers apartments and not far from the Willet Branch stream. The land is owned by developer Equity One, and it is scheduled for redevelopment.
Watch this MyMCMedia Extra video, below, for more:
Carrying a sign that read, "Respect," a few members of the Macedonia Baptist Church and other Bethesda residents protested outside and inside the offices of the planning department Thursday afternoon in Silver Spring.
They brought with them a petition with over 100 signatures of people who believe an upcoming Feb. 23rd sketch plan hearing on the Westbard property should be canceled.
Wright said planners are moving forward with the hearing but they will not review any development on the part of the site in question until an archaeological investigation is complete.
"We have said let's move forward with the areas of this large project that have nothing to do with the potential cemetery site," said Wright. "But because of the concerns of the community we have essentially excluded the area that is under consideration as a potential cemetery site, and will wait until there is an archeological study done to determine what is on the ground or under the ground in that location before moving forward with a regulatory approval for that area."
She said planners are not rushing the review process of Equity One's development plans.
It was back in 2014, when planners said historic preservation staff determined there may be a cemetery in this River Road area.
"We briefed the planning board in public session," said Wright, who said a series of meetings followed with stakeholders in the community. According to Wright, the potential cemetery site was relocated from Tenleytown because of pending development there. "It was not a cemetery specifically associated with Macedonia Baptist Church."
Wright said planners don't know how many burial sites were relocated or how many were added to the River Road cemetery.
So what's next?
According to planners, developer Equity One must investigate the possibility there is a cemetery on its property, and planners said they will refrain from reviewing any development on that part of the site until the facts are known. In addition, planners said they will ensure that any archaeological work that is done is reviewed by outside academic experts for accuracy. She said it won't take long for the experts to determine if there are graves at the site. "The actual study to go out and do ground penetrating radar will only take about a week," she said, noting analysis and a final report may take a few more weeks.
Church members say they are not giving up and they will protest again this Sunday at the potential cemetery site in Bethesda, and next Thursday at the planning board's hearing. Although Wright disagrees with the church's position on the need to cancel the Feb. 23rd hearing in its entirety, she said planners welcome the community's involvement in the future of the Westbard community. "We want to continue working with them," she said.
You can find more information about the Westbard Sector Plan and the Feb. 23rd hearing, here. You can view the planning staff report, here.
Macedonia Baptist Church members deliver petition to @montgomeryplans, want 2-23 hearing on Equity One sketch plan canceled. pic.twitter.com/hpVYMSUfy0

— Sonya Burke (@SonyaNBurke) February 16, 2017
PREVIOUS POSTS
Dozens Rally at Macedonia Baptist Church About Historic Burial Site in Bethesda (VIDEO)
Equity One to Contract Ground Radar Studies for Cemetery Site
Berliner Asks Planning Board to Ensure Westbard Action Doesn't Prejudice Cemetery