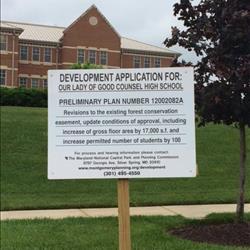 Planning Board Approves Good Counsel's Expansion Plans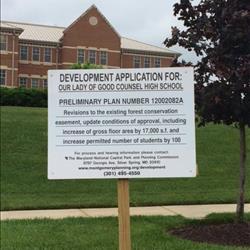 Our Lady of Good Counsel High School is moving forward with its plans to build a new Performing Arts Center on its Olney campus.
On Oct. 2, the Montgomery County Planning Board approved the expansion of the school by 17,000 square feet to a total of 227,000 square feet in order to accommodate the Performing Arts Center. According to a statement from Good Counsel, the Planning Board also approved a request of an increase of 100 students in the permitted enrollment ( from 1,200 to 1,300 students), and an increase in the number of lighted events at the school athletic stadium by 15 to 50 per year.
School officials said these approvals, along with revisions of a transportation mitigation plan, help clear the way for construction of the new center pending the issuance of a building permit.