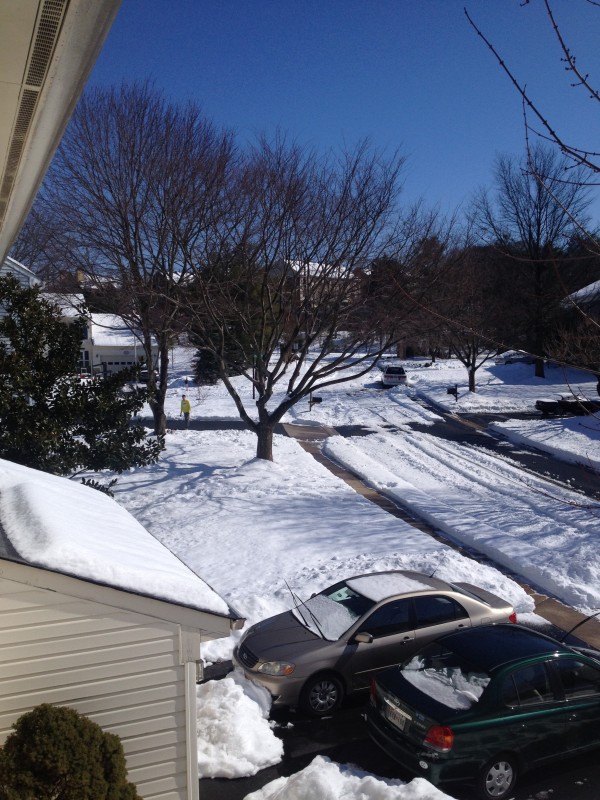 Plow My Street
Don't have any special place to be, but the novelty of snow has worn off Friday morning, as I sit at my desk, looking out my second-floor window. In the distance, up a hill and between houses and trees, I can see a tiny stretch of Quince Orchard Road.
Cars and trucks are zipping through the small gap, my window on the outside world, too quickly for me to see make or even color. They sparkle in the morning sunshine, glittering jewels bearing people at work, busy people shopping, my friends and strangers to me.
Where are they going, I wonder.
I want to go too.
Below my window, I can hear the motor of a lone snow blower. One of my neighbors is attempting to clear a track in our street.
Without a four-wheel drive vehicle, I am going nowhere.
The county's MCDOT STORM Operations Map (interactive) confirms that my street is not plowed. When I click on my address to report "Missed Street," I get a red message on an otherwise blank screen: "We have problems with snow map. Please call 311 to report issues."
On 311, I hold for 15 minutes. An operator suggests I go to the website. When I say the reporting mechanism is down, she looks my address up. The system is slow, she says, as we wait for results.
I break our silence. "You see, I can see cars driving on a main road near me, and I don't know whether just my street has been overlooked – or whether there are a lot of us still snowed in."
"Your street has not been plowed," she says. "The main street in your neighborhood – McDonald Chapel Road has been cleared," she offers.
This is irrelevant. The only way for us to reach McDonald Chapel is on a footpath through the woods. I am now angry with my neighbors on McDonald Chapel Road. I sense that the operator may not be interested in this information.
The neighborhoods in the county are only 20 percent plowed, the operator reported.
Hmmm.
I look at the website for the City of Gaithersburg. It says something about finishing up some dribs and drabs here and there in intersections – a tidying up kind of thing.
The implication is that they are plowed out in Gaithersburg, merely a stone's throw across Quince Orchard Road from where I sit.
Gaithersburg City Manager Tony Tomasello confirms my dark suspicions in an email at 11:05 a.m.
"I would say close to 100 percent (as far as you can ever say that!). All base plowing is done and we are just doing cleanup, some sidewalks, etc. Of course, we will get specific requests throughout the day. Overall things look good and we are open!"
What's the deal Montgomery County? How can Gaithersburg be done when the county has almost not begun?
I'd say the plowing has been unsatisfactory. I feel lucky my livelihood or health or something else of urgency isn't hanging in the balance.
I hope County Executive Leggett addresses this soon. I want to know how the county's cleanup stacked up, regionally.
Maybe I expect too much.