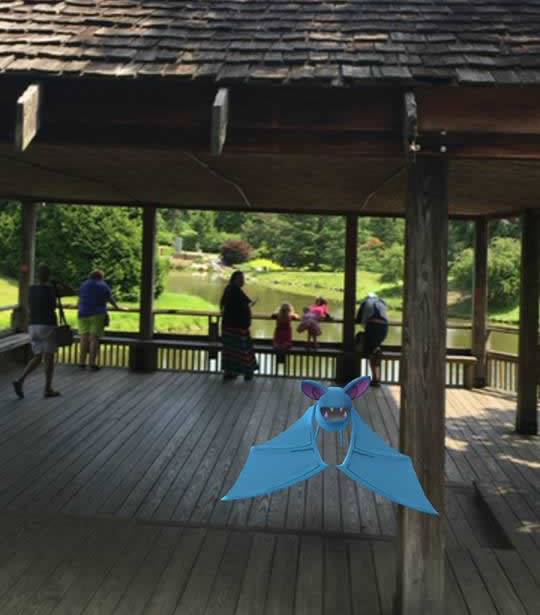 Pokémon Go Craze Hits Montgomery County Parks and Local Businesses (VIDEO & PHOTOS)
If you've seen people glued to their phones recently, instead of texting or scrolling through Twitter, they're most likely searching for Pokémon, the popular cartoon characters that debuted in the 90s.
The latest viral mobile game craze, "Pokémon Go," allows players to see characters pop into existence on their screens next to real-world objects. Players are tasked with capturing Pokémon and if they're skilled enough can join a team.
In Montgomery County, the Pokémon creatures have been popping up in parks, local business and even Gaithersburg City Hall. According to Montgomery Parks Spokesperson Melissa Chotiner, Brookside Gardens and Nature Centers have been popular destinations for kids playing the game. MyMCMedia's Maureen Chowdhury reports.
We're currently evaluating suggestions to rename City Hall to Gotta Catch Em Hall. Thoughts? #PokemonGO pic.twitter.com/oJKietqbdt

— City of Gaithersburg (@GburgMD) July 13, 2016
Gotta catch 'em all! How many #PokemonGO have you caught at RIO Washingtonian? pic.twitter.com/JXzB9G9JG7

— RIO Washingtonian (@WTCRIO) July 12, 2016
Pokémon Masters- head over to refuel at Miso Fusion Cafe before catching them all in Town Square! #PokemonGO pic.twitter.com/Kfi5xOWdAL

— RockvilleTownSquare (@RockvilleTownSq) July 11, 2016
#PokemonGO at @WTCRIO! What team are you on?? pic.twitter.com/DDjsv7eBbD

— RIO Washingtonian (@WTCRIO) July 11, 2016
Rain putting a damper on #PokemonGO? Play indoors at #BrooksideGardens. Conservatory's a #PokeGym! https://t.co/CNWrGZ7Gpw #MoCoParks

— Montgomery Parks (@MontgomeryParks) July 13, 2016
#PokemonGO at #BrooksideGardens: Zubat at the Japanese Tea House. Catch 'em all at #MoCoParks pic.twitter.com/lm34Yez0OV

— Montgomery Parks (@MontgomeryParks) July 12, 2016
#Pokemon spotted at Rockville #Skate Park https://t.co/6dqrPbFHZU pic.twitter.com/OerxaL5AaM

— Rockville Recreation (@RockvilleRec) July 12, 2016
Playing #PokemonGO? Take your hunt to #MoCoParks. We know many are hiding in your nearest park. pic.twitter.com/sIoX37virf

— Montgomery Parks (@MontgomeryParks) July 12, 2016