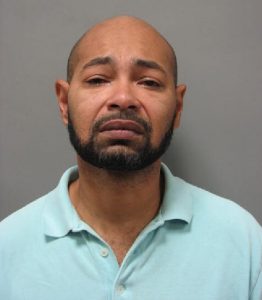 Police Arrest Suspect for July Wheaton CVS Pharmacy Robbery (VIDEO & PHOTO)
Montgomery County police have charged a Beltsville man for a robbery that occurred in July at a CVS Pharmacy located in Wheaton.
Police have arrested and charged Derrick Austin Bacon, age 41, of the 3400 block of Castleleigh Road in Beltsville, with armed robbery, first degree assault, and theft.
The robbery happened at 9:59 p.m. at the CVS Pharmacy located at 12209 Veirs Mill Road on July 24th, police said. According to police, the suspect, now identified as Bacon entered the CVS Pharmacy carrying a duffel bag and went to the store's hair care products section.
Police said that a store employee witnessed Bacon putting hair color and shampoo products inside his duffel bag. When the employee attempted to prevent Bacon from leaving the store with the stolen items, Bacon threatened the employee and was last seen fleeing by foot on Veirs Mill Road, police said.
Police released surveillance of the suspect on Sept. 8th to the public and asking for assistance in identifying him. A Montgomery County Police officer recognized Bacon and identified him as the suspect in the video. Police arrested Bacon at his home on Oct 27th.
Bacon was released after posting a $5,000 bond.