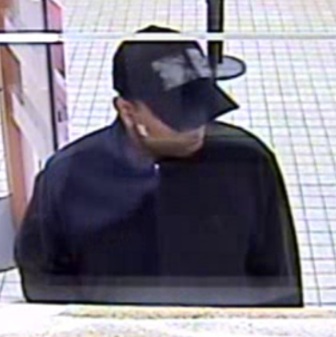 Police Ask for Help Identifying Bank Robbery Suspect (Photos)
Detectives from the Montgomery County Police Department, Major Crimes Division, continue to investigate a bank robbery that occurred on Jan. 13 at a Bank of America in Chevy Chase. Detectives released surveillance photographs of the suspect and are asking for the public's assistance in identifying him.
According to police on Jan. 13 at approximately 4:39 p.m., officers responded to the located at 4411 South Park Avenue in Chevy Chase for the report of a bank robbery.
Police say male suspect entered the bank and passed a note to the teller. The note demanded money and implied that the suspect had a weapon. The suspect received an undisclosed amount of cash and exited the bank.
Police describe the suspect as a black male, approximately 25 to 30 years old, 5'07″ – 5'10″ tall, and with a medium build. Police report he had a band-aid on his right cheek.
Detectives are asking anyone with information about this robbery to call Crime Solvers of Montgomery County toll-free at 1.866-411.TIPS (8477) or leave a Crime Solvers tip here. Crime Solvers will pay a cash reward of up to $10,000 for information provided to them that leads to an arrest and/or indictment for this felony crime. Tipsters will remain anonymous.