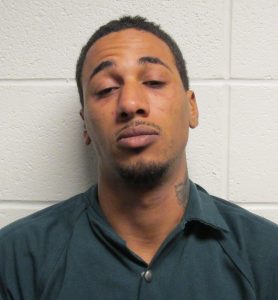 Police Charge Germantown Man with Attempted Murder (PHOTO)
Montgomery County Police have charged a Germantown man with attempted murder.
According to police, Da'Von Mobley, age 26, of the 18900 block of Grotto Lane, stabbed two known acquaintances on the evening of Oct. 23rd. Police said that on that night at 8:07 p.m. the Emergency Communications Center (ECC) received a 9-1-1 call reporting that two people had been stabbed inside a residence located at the 13300 block of Kilmarnock Way. Officers who responded to the scene found an adult male and adult female outside the home suffering from stab wound to their upper bodies. Fire and Rescue personnel transported the two victims to an area hospital; the male had life-threatening injuries and the female had serious injuries, police said.
The victims told officers that the suspect was at their residence earlier, but was asked to leave. The suspect returned to the home fifteen minutes after leaving and forced his way into the home through the front door and stabbed the male and female, according to the victims.
Police said that Mobley is also charged with theft of a vehicle that he stole to flee the scene of the stabbing. Police said a resident approached officers on scene of the incident to report that her white 2007 Dodge Caliber, which had been parked in the 17700 block of Kilmarnock Way, was missing. Officers tracked the Caliber driving on Kilmarnock Way and attempted to stop the vehicle, but the driver refused to stop, police said. Officers pursued the vehicle to the 17700 block of Cricket Hill Drive, where the Caliber left the roadway, traveled into a tree line, and stopped. The driver of the Caliber then fled from the vehicle on foot.
Police established a perimeter and the suspect,  Mobley, was located with the assistance of MCPD canines and the Maryland State Police helicopter in the 13700 block of Charity Court.
Mobley was transported to the Central Processing Unit where he was charged with two counts of attempted first-degree murder, home invasion, first-degree burglary, reckless endangerment, and theft of a motor vehicle. Mobley is currently being held without bond.