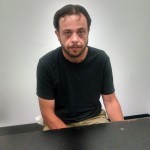 Police Charge Potomac Private School Teacher With Sex Abuse of Two Students (PHOTO)
A private school teacher was charged with two counts of sexual abuse of a minor and two counts of fourth-degree sexual offense, according to Montgomery County Police.
Justin Andrew Gordon, 40, of Poolesville, was arrested on July 16. Detectives were investigating reports from two students of inappropriate sexual contact between Gordon and them that occurred in 2012 and 2015.
Gordon was a robotics teacher at Connelly School of the Holy Child in Potomac, and police said he initiated a relationship with one of the victims in October 2014. According to police, the relationship started with "with informal association at social and sporting events, then increased to daily personal communications, and by May of 2015, had escalated to inappropriate sexual touching."
Along the investigation, police received reports from a second victim. Police said the girl was a teenager student in Connelly School of the Holy Child in 2008 when Gordon "cultivated" a friendship and by 2012 turned into a relationship with inappropriate sexual contact.
Staff from Connelly School of the Holy Child- an all-girls school for grades six through 12- said the institution will release a statement later in the day.
Gordon was also the moderator to the Technology Club at Connelly School of the Holy Child.
According to a police news release, his employment has been terminated when the administration became aware of the criminal allegations against him.
Police said he was held on a $35,000 bond.
Detectives ask anyone who believes has been victimized by Gordon to call the Special Victims Investigations Division at 240.773.5400.