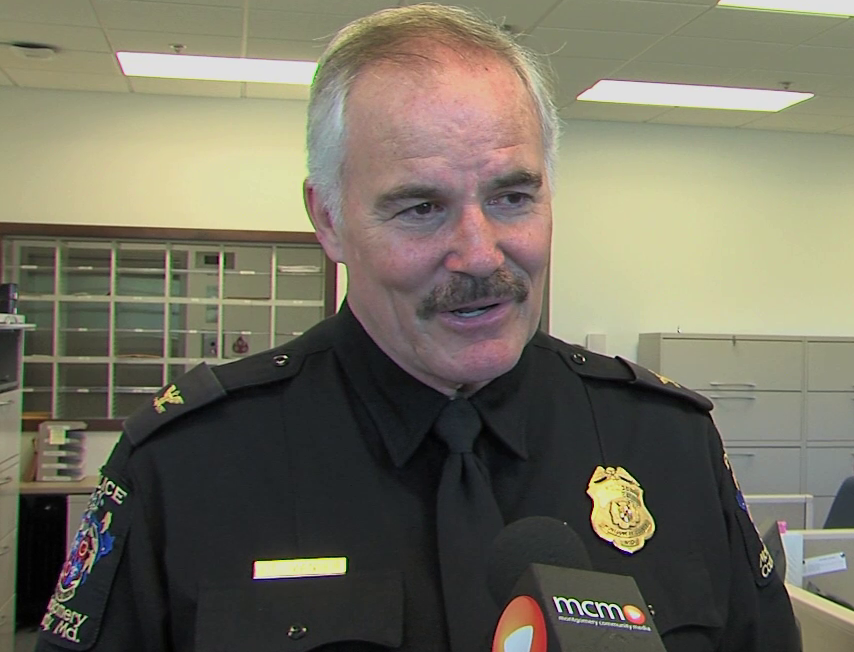 UPDATED: Police Chief Tom Manger Speaks Out About President Trump's Comments (VIDEO)
UPDATED Montgomery County Police Chief Tom Manger is speaking out after President Trump made some comments about the treatment of people in police custody.
In a letter to the editor published in The Washington Post, Manger said he "was appalled" when he heard "President Trump condone injuring an individual in police custody."
"This violates the Constitution, department policy and the public trust," Manger wrote. "While any elected official can give his or her views on how the police should do their jobs, it is the actions of police officers that speak directly to who we are."
In his letter, Manger said it is a police officer's "responsibility to keep everyone safe, and that includes the people we arrest."
At a National Night Out event in Gaithersburg on Tuesday night, Manger said he wrote the letter to set the record straight. Manger noted that even if the President's remarks were intended as a joke they were not funny.
"That letter was not to President Trump. That letter was to the residents of Montgomery County it was to the American public – just to remind them of the service and sacrifice that cops do everyday. I just wanted to make sure that folks understood that we take our jobs seriously, and we know how to do it right, and I think that's the message that needed to be sent."
Manger said the response to his letter has been overwhelmingly positive.
"I have had a couple of people that felt like I was taking it too seriously but again I live this everyday," Manger said. "When someone makes a joke about not treating someone lawfully or about not treating someone appropriately I felt that I needed to set the record straight."
When asked if he sent a memo to his staff about the issue, Manger said he didn't need to remind cops to not do that kind of thing.
"Every police officer I have spoken with since Friday was dismayed at the President's remarks," Manger said. "The cops that work in Montgomery County are courageous, they are professional and they are out here doing the job to the best of their ability everyday and I am proud of them and the public needed to hear that."
In addition to leading the Montgomery County Police Department, Manger is the president of the Major Cities Chiefs Association. He's been a police officer for the past 40 years.
You can read his entire letter to the editor, here.