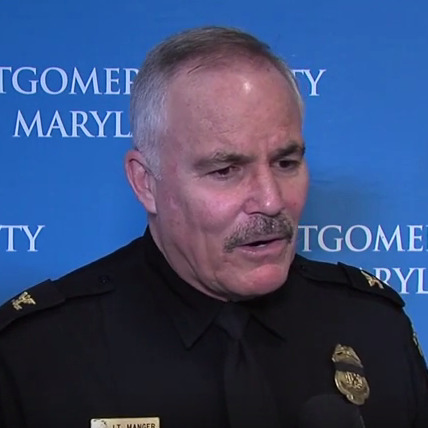 Police Chief Tom Manger Says Hate Crimes Increased by 32 Percent
After the second bomb threat was made to the Bender Jewish Community Center of Greater Washington, the U.S. Department of Justice reached out to staff to see how they could be of assistance.
"I said 'well  I think it would be great if we could have a program that would educate our community and bring everyone together,'" Michael Feinstein, CEO of Bender Jewish Community Center said.
Dozens of residents attended a hate crime prevention forum at the Bender Jewish Community Center of Greater Washington on Monday evening sponsored by the U.S. Department of Justice,
"My [bestfriend's brother] brother's best friend got killed and I believe it was a hate crime," Geraldin Landry of Germantown said.
Landry, is reflecting on the 2016 killing of Zella Ziona, a transgender woman also known as DeAndre Smith. Ziona was shot multiple times in a service alley behind a  Montgomery Village shopping center, according to police. The suspect, Rico LeBlond was charged with first degree murder.
"I just want to learn everything I can to prevent it from happening," Landry said. "I want to learn how to stop it if I see it ."
Participants heard from the Federal Bureau of Investigation, the U.S. Attorney's Office, and the Montgomery County Police Department about hate crimes and their impact on communities affected by them.
"We had 87 hate crimes occur  in 2016 in Montgomery County," Montgomery County Police Chief Tom Manger said. "This is compared to 66 reported cases in 2015 so there was a 32 percent increase."
To help put a stop to hate-based incidents and crimes in the community, Manger said it's imperative for the community to stay vigilant and report the incidents when they happen.
Here at the Bender Jewish Community Center of Greater Washington where a hate crime prevention forum will take place in a few @mymcmedia pic.twitter.com/exA9SU8Y2d

— Mitti Hicks (@MittiMegan) May 1, 2017
Tonight's panel features reps. from the @TheJusticeDept @mcpnews and @FBI. @mymcmedia pic.twitter.com/QO2x1Vcxb9

— Mitti Hicks (@MittiMegan) May 1, 2017
Editors Note: This story was updated