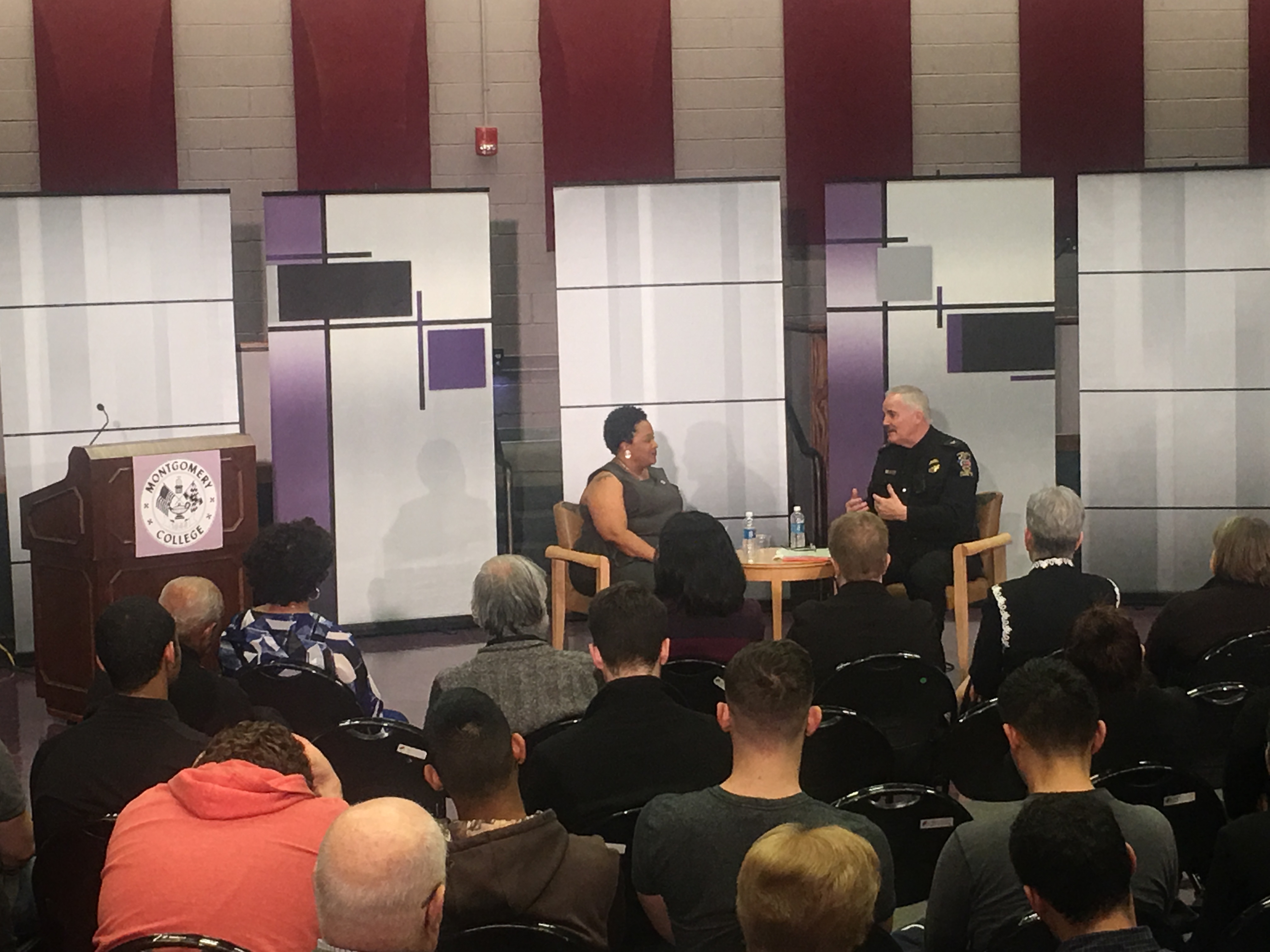 Police Chief Tom Manger Talks Race, Diversity and Community Policing with Montgomery College President (VIDEO)
Inspired by the dialogue in the community, Montgomery College President Dr. DeRionne Pollard joined Montgomery County Police Chief Tom Manger for a conversation about race, diversity and community policing.
This discussion is a part of Dr. Pollard's 2017 presidential dialogue series titled, "Civility in Action: Dialogues Across Difference."
"I think there's a hunger in our community, post election, where people want to sit down and have conversations," Pollard said. "A community college is for that purpose."
Immigration, LGBTQ rights and the call for police reform following the recent shootings of African American males in Baltimore and Ferguson, Missouri were some topics of discussion.
Using her own experience, Pollard discussed the reality of having "the talk" with her 10-year-old African-American son. The talk which Pollard describes as a rite of passage for many African-American and Latino parents, is the conversation they have with their children on how to interact with law enforcement.
"As a police officer that breaks my heart," Manger said. "In recent weeks, I've had an African-American woman say 'the biggest worry I have is when my son goes out on the road and gets stopped by a police officer.'"
Manger went on to discuss how there are many things parents should be worried about but he doesn't want fearing police officers to be one of them. In order to do that, Manger continued, depends on both the police and community building trust with each other through partnerships and education.
The next dialogue in Dr. Pollard's series will host former Congresswoman Connie Morella on March 30. The event will talk place at Theatre Arts Arena on Montgomery College Rockville Campus.
The conversation begins at 7 p.m.
Happening now: a conversation about community policing @montgomerycoll with @mcpnews Chief Tom Manger @mymcmedia pic.twitter.com/RXAxmX79ce

— Mitti Hicks (@MittiMegan) March 10, 2017
Here's a look at the room for tonight's dialogue. @mymcmedia pic.twitter.com/PaaGbfxz98

— Mitti Hicks (@MittiMegan) March 10, 2017