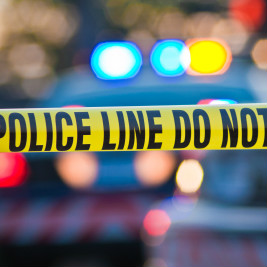 Police Hope Public Can Help Identify Culprits in Armed Robbery
Montgomery County police are releasing surveillance photos of two men in connection with an Aug. 8 armed robbery at a CVS Pharmacy in Silver Spring in hopes the public can identify the culprits.
The robbery occurred about 9:45 p.m. at the drug store, at 9520 Georgia Ave., Silver Spring, police said.
One man, armed with a handgun, entered the store. Another man served as a lookout, police said. The armed man forced the store cashier and manager at gunpoint to provide cash from inside the store's safe, police said. Both men then fled, police said.
The armed man has a fair to medium complexion, wearing a gray baseball cap, a gray scarf which covered the bottom half of his face, black shirt, black pants, and white tennis shoes, police said.
The man who served as a lookout has a dark complexion and black dreadlocks/twists, wearing a green construction helmet, a yellow reflective vest, black tee shirt, and tan cargo pants, police said.
Anyone with information regarding the suspects and/or this commercial armed robbery is asked to call robbery detectives at 240.773.5100. Those who wish to remain anonymous may call Crime Solvers of Montgomery County toll-free at 1.866.411.TIPS (8477).  Crime Solvers will pay a cash reward of up to $10,000 for information provided to them that leads to an arrest in this case.