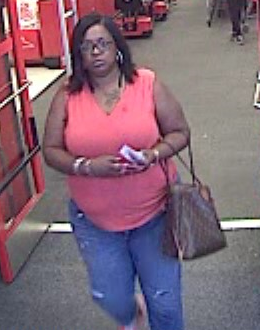 Police Hope Someone Can ID Woman in Surveillance Photo
Woman wanted for fraudulent use of credit cards
Montgomery County police detectives are asking whether someone recognizes a woman in surveillance photo who is wanted in connection with the Aug. 16 theft of credit cards.
After the theft, the cards were used fraudulently at a Gaithersburg store, police said.
About 7:30 p.m. Thursday, Aug. 16, a woman received an alert from her bank regarding a $1,500 purchase of Visa gift cards that had just been made at the Target store at the Rio Washingtonian Center in Gaithersburg at 25 Grand Corner Ave., police said.
The woman then checked her wallet and discovered her credit cards missing, police said. The woman last used the cards about 6:25 p.m. that evening at a store near the Target, police said.
Detectives are still working to determine where the theft of credit cards occurred.
Anyone with information about the woman in the photo is asked to call the Montgomery Vllage police district Patrol Investigations Unit at 240-773-5745 or call Crime Solvers of Montgomery County toll-free at 1-866-411-TIPS (8477).
Crime Solvers will pay a cash reward of up to $10,000 for information provided to them that leads to the arrest or indictment. Tipsters will remain anonymous.