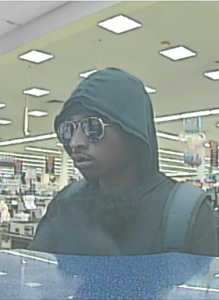 UPDATED: Police Investigate Bank Robbery at SunTrust Bank in Fallsgrove Community (VIDEO)
UPDATED 6.7.16 Montgomery County police officers are investigating a bank robbery that occurred at the SunTrust Bank at 14939 Shady Grove Road shortly before noon on June 2nd in the Fallsgrove community of Rockville, and today they are releasing photos and surveillance video in hopes you can help identify the suspect.
Police Spokesperson Rick Goodale said the suspect passed a note to the teller demanding money.  According to police, the note implied that the suspect had an explosive device and would detonate it if he did not receive any money. Police said the suspect obtained an undisclosed amount of money and fled from the bank.
See surveillance video, below:
According to police, the suspect has a tattoo on his right forearm.
Anyone with information about the suspect's identity is asked to call the Montgomery County Police Department's Major Crimes Division at 240.773.5070.
To be eligible for a reward, tipsters may call Crime Solvers of Montgomery County toll-free at 1.866.411.TIPS (8477).  Crime Solvers will pay a cash reward of up to $10,000 for information provided to them that leads to the arrest and/or indictment of this suspect. Tipsters will remain anonymous.
PHOTOS | MCPD
Detectives Investigate Rockville Bank Robbery; Video of Suspect Releasedhttps://t.co/aZR7Q8cDym pic.twitter.com/i7Cml7ItYv

— Montgomery Co Police (@mcpnews) June 7, 2016
MCP investigating bank robbery at SunTrust Bank located at 14939 Shady Grove Rd. Call received at 11:55 am. (Continued)

— Montgomery Co Police (@mcpnews) June 2, 2016
Bank robbery (cont): Major Crimes detectives are at scene and are investigating.

— Montgomery Co Police (@mcpnews) June 2, 2016