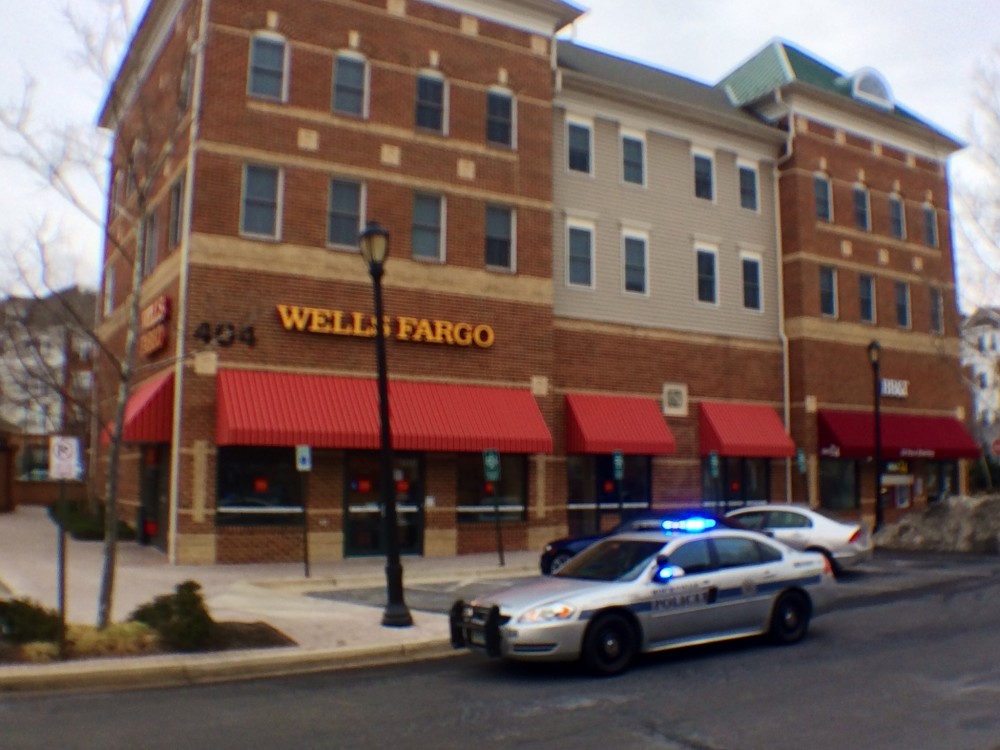 Police Investigate Armed Bank Robbery in King Farm (Photos)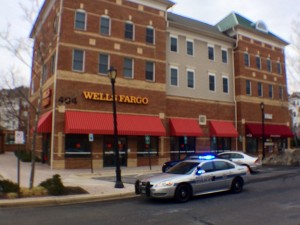 UPDATED Montgomery County police are investigating an armed bank robbery that occurred at 10:02 a.m on March 11 at the Wells Fargo bank at 404 King Farm Boulevard in Rockville.
According to police, two male suspects entered the bank armed with handguns and demanded money.
Police said the suspects obtained an undisclosed amount of cash and fled from the bank. (See surveillance photos, below.)
Police said the two suspects fled the scene in a silver Kia SUV, along with a third suspect.
The search for the suspect vehicle led to the closure of Interstate 270.
That's where with the assistance of Prince George's County Police Department's Air 1 helicopter, officers located the suspect vehicle traveling on southbound I-270. With the assistance of Maryland State Police, southbound I-270 was shut down in order to stop the suspect vehicle. Police said the suspect vehicle was located and stopped just south of Tuckerman Lane, and the suspects were taken into custody.
Traffic cameras captured the backup of motorists on the busy highway. One Montgomery County resident, stuck in the I-270 backup, told us she left her house at 10:10 a.m. and had not made it to Montrose Road by 11:30 a.m. on Tuesday morning. On Twitter, other residents tweeted out photos from the scene of police in action.
According to police, a handgun used in the robbery was recovered from inside the suspect vehicle. Additionally, police said money obtained in the robbery was recovered from a dump truck that had been traveling adjacent to the suspect vehicle. Police said once the suspects realized the police had located their vehicle they attempted to throw the money into the dump truck.
Police have identified the suspects as:
Earl Michael Kenney, age 55, of the 1500 block of Rollins Avenue in Capital Heights, Maryland.
Michael Anthony Heard, age 40, of the 2700 block of Martin Luther King Boulevard in Washington, D.C.
Ricko Damon Ford, age 20, of the 1900 block of Rochell Avenue in Forestville, Maryland.
Police said Kenney and Heard have been charged with one count of armed robbery and one count of using a firearm in the commission of a violent felony. According to police, Ford has been charged with one count of armed robbery and one count of conspiracy to commit armed robbery. All are currently being held pending a bond review hearing.
The investigation continues.
Here's a look at the police department's Twitter feed:
Police investigate Bank robbery. 404 King Farm Blvd. Avoid S/B 270-trf restricted as police look for suspect vehicle.

— Montgomery Co Police (@mcpnews) March 11, 2014
More info: suspects in custody. 270 still closed in both direction.

— Montgomery Co Police (@mcpnews) March 11, 2014
More Info: 3 male suspects in custody. S/B 270 beginning to open in stages. Will alert when fully open and flowing.

— Montgomery Co Police (@mcpnews) March 11, 2014
More Info: 270 open. More details re bank robbery to be released this afternoon.

— Montgomery Co Police (@mcpnews) March 11, 2014