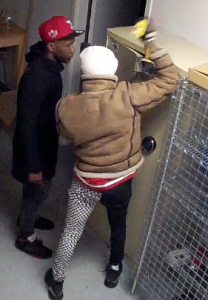 Police Investigate Burglary of Cell Phones from Sprint Store in Aspen Hill (VIDEO)
Montgomery County police officers are investigating a commercial burglary of a Sprint Store in the Aspen Hill area that occurred on March 16th. Detectives are releasing surveillance video of the suspects in hopes you can help identify them.
Police said at approximately 9:30 a.m., on Wednesday, 4th District officers responded to the Sprint Store located at 13605 Connecticut Avenue for a burglary that had just been discovered by an employee arriving to open the store for business.
Video surveillance captured the suspects enter the business' rear door at approximately 6:07 a.m. Police said one suspect is observed prying open a safe and both suspects can be seen stealing cell phones from the safe. The suspects also steal cash from the business and are seen leaving the Sprint Store at around 6:25 a.m.
According to police, the total value of the stolen cell phones is over $57,000.
Detectives believe that these two suspects may also be responsible for a similar burglary that occurred on March 15 at a Sprint Store in Beltsville.
Anyone who recognizes the suspects or has information about this burglary is asked to contact the 4th District Investigative Section at 240.773.5530. Tipsters can also call Crime Solvers of Montgomery County toll-free at 1.866.411.TIPS (8477) or enter a tip online. Crime Solvers will pay a cash reward of up to $10,000 for information provided to them that leads to an arrest and/or indictment for this felony crime.