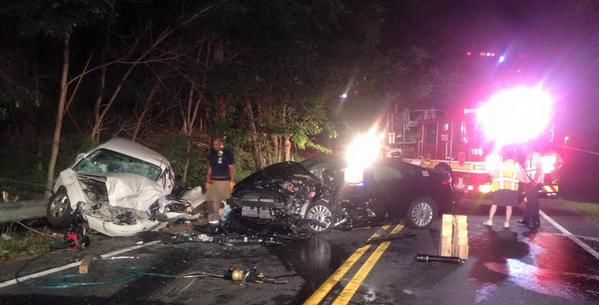 Police Investigate Fatal Collision at Muncaster Mill and Bowie Mill Roads
Montgomery County police are investigating a fatal collision that occurred at Muncaster Mill and Bowie Mill roads last night in the Rockville area.
It happened shortly before 11:30 p.m. on Muncaster Mill Road south of Olde Mill Run.
Police said the collision involved two vehicles, a black 2014 Ford Focus and a white Ford Taurus. Police said reasons for the collision remain under investigation.
According to police, a woman driving the Taurus died at the scene of the crash. Police have not released her name, pending the notification of family.
Police said the driver of the Ford Focus was transported to Suburban Hospital with non life threatening injuries.  Police have identified him as Juan Francisco Diana of Silver Spring.
At this hour, police said Muncaster Mill Road remains closed between Bowie Mill and Olde Mill Run while the investigation continues.
Anyone who witnessed this collision is asked to contact the Collision Reconstruction Unit at 240.773.6620.   Callers may remain anonymous.
Muncaster Mill Road Fatal Crash Investigated http://t.co/kCtY9p3T6Z

— Montgomery Co Police (@mcpnews) June 1, 2015
(5/31) Muncaster Mill & Bowie Mill Rds, collision w/ entrapment; 1 Pri2 trauma & 1 fatal, @mcpnews PD investigate pic.twitter.com/pq5HnLIqsv

— Pete Piringer (@mcfrsPIO) June 1, 2015
Muncaster Mill remains closed btwn Bowie Mill (open) and Olde Mill Run while fatal investigation continues.

— Montgomery Co Police (@mcpnews) June 1, 2015
Collision Reconstruction Unit investigates fatal collision on Muncaster Mill Rd near Bowie Mill Rd. MORE

— Montgomery Co Police (@mcpnews) June 1, 2015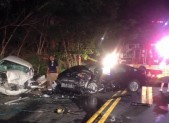 Montgomery County police are investigating a fatal collision that occurred at Muncaster Mill and Bowie Mill roads last night in the Rockville area. It happened shortly before 11:30 p.m. on Muncaster Mill Road south of Olde Mill Run. Police said the collision involved two vehicles, a black 2014 Ford Focus and a white Ford Taurus. […]