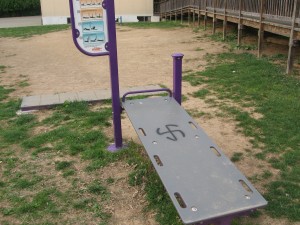 Police Investigate Hate-Based Vandalism in Rockville (PHOTOS)
Montgomery County police officers are looking for the vandals that painted swastikas at several locations in Rockville.
Police said on Sunday afternoon,  officers responded for the report of vandalism that had just recently occurred at Welsh Park on Mannakee Street and at Beall Elementary School located at 451 Beall Avenue in Rockville.
Through the course of the preliminary investigation, police said it was determined that a witness had seen two boys, described as white teenagers, spray painting swastikas in the wooded area between Beall Elementary School and Welsh Park.
The responding officers were not able to locate the suspects.
Police did find two painted swastikas along the footpath in the wooded area near the dead end of Luckett Street. One of the swastikas was found on the trunk of a tree and the other was painted on a personalized memorial stone with a plaque. A third swastika was located on a piece of exercise equipment near the portable classrooms on the campus of Beall Elementary School.
Anyone with information about this vandalism and/or the involved suspects is asked to call the 1st District Investigative Section at 240.773.6084.
Please find details of three related hate-based vandalism incidents in Rockville at: https://t.co/u34C4ucYsl pic.twitter.com/uCQcgbSjt4

— Montgomery Co Police (@mcpnews) April 26, 2016