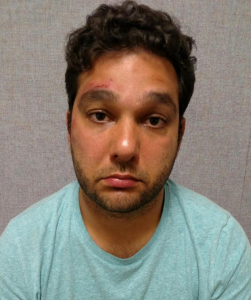 Police Investigate Homicide of Baby Girl, Rockville Caregiver Arrested (PHOTO)
Montgomery County police officers have charged a Rockville man with the death of a six-month-old Rockville girl.
Police said 35-year-old Kia Divband is charged with second degree murder and two counts of first degree child abuse in the death of Miller "Millie" Lilliston.
According to a police account, on April 19, homicide detectives responded to Shady Grove Adventist Hospital (SGAH) for the report of an unresponsive infant who had been transported to the hospital. Police said that investigators determined that prior to arriving at the hospital, the child, Millie Lilliston, was in the care of Kia Divband at his licensed daycare, Little Dreamers, on Grandin Avenue.
Detectives responded to Divband's residence and interviewed him. According to police, Divband stated that Millie's parent had dropped her off at approximately 8 a.m. that morning (April 19) and that she took a nap. Police said Divband stated that Millie woke up at 10:30 a.m. and while she was in her stroller, he began to feed her a bottle that contained six ounces of breast milk. According to police, Divband stated that Millie drank approximately three ounces of milk and then started choking and vomiting. When she stopped vomiting, Divband told police he took her to the bathroom to clean her face. At that time, police said that Divband stated that he noticed that Millie was unresponsive and that her lips had turned blue.
According to the police account, Divband stated that he performed three to four rounds of cardiopulmonary resuscitation (CPR) and yelled for his wife, who was upstairs in the home, to call 9-1-1. Fire and Rescue personnel responded and transported Millie to SGAH. Police said that doctors noted subdural hematomas in her head, rib fractures, and multiple bruises on her face and body. Millie was then flown by air to the Children's National Medical Center (CNMC) in the District of Columbia.
An examination by doctors at the Children's National Medical Center revealed additional injuries to include retinal hemorrhages, a fractured femur, and a fractured humerus, according to the police account. All of the injuries were in various stages of healing, police said, and were classified as non-accidental, inflicted trauma. Millie died from her injuries three days later on April 22, police said.
Police said that Millie's parents were interviewed at CNMC and reported that she had not been ill, and was in good health and condition when she was dropped off earlier that day. Police said the baby's parents had a photograph taken on April 18 that showed her with no facial bruising. They also stated to police that Millie had no serious injuries prior to being placed in Divband's care.
On April 21, homicide detectives served a search warrant at the Little Dreamers daycare and Divband's residence. Police said that blood evidence was recovered in multiple locations in the daycare facility, including the stroller that Millie was seated in on April 19. A trash can with bloodied baby wipes was located outside with the trash bins, according to police.
On April 24, an autopsy was performed by the District of Columbia's Office of the Chief Medical Examiner. Police said that the ME's office ruled Millie's death a homicide caused by multiple blunt-force injuries.
Prior to his bond review hearing, police said Divband was being held on a $2,000,000 bond.
Detectives arrest suspect for homicide of an infant. Details at: https://t.co/XWpbdqhEg1 pic.twitter.com/sVL9fAd3yI

— Montgomery Co Police (@mcpnews) April 26, 2016