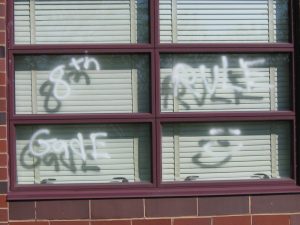 Police Investigate John Poole Middle School Vandalism (PHOTOS)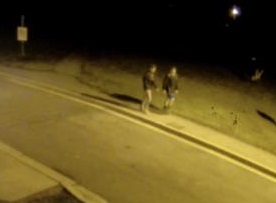 Montgomery County police officers are asking for the public's help to identify two suspects and a vehicle that they believe are connected to a vandalism that happened at John Poole Middle School located at 17014 Tom Fox Avenue in Poolesville.
According to police, on the morning of May 16th, employees arrived at the school and discovered that several areas of the school building, along with areas on the tennis had been spray painted with graffiti and profanity.
Police said that officers checked the school's surveillance system and observed two suspects walking from the rear area of the school on Sunday, May 15 at 1:33 a.m. Police also said that the surveillance camera showed a black Jeep Wrangler driving on school property at the same time the two suspects were seen at the school.
Detectives are asking that anyone with information about this vandalism, the suspects, or and/or the black Jeep Wrangler call the 1st District Investigative Section at 240.773.6084. Callers may remain anonymous.