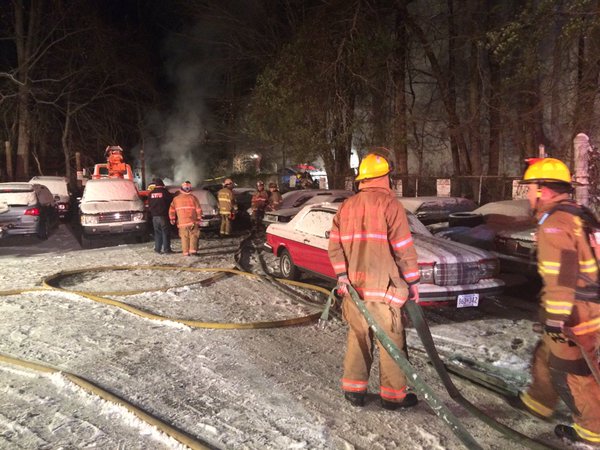 Police Investigate Suspicious Death in Rockville as Homicide (PHOTO & VIDEO)
Authorities in Montgomery County say a man was found dead at a tent fire in Rockville overnight.
It happened just around midnight in the 5400 block of Randolph Road near Parklawn Drive at what a county fire official described as a small homeless encampment.
On his Twitter account, Fire and Rescue Spokesperson Pete Piringer said the tent was fully engulfed in flames when firefighters arrived at the scene.
Montgomery County police officers are investigating the suspicious death of the man as a homicide. Police have not confirmed the identity of the man. An autopsy is pending, police said.
According to Piringer, the cause of the fire remains under investigation.
Suspicious Death in Rockville Investigated as Homicide https://t.co/NhA7FZT3hh

— Montgomery Co Police (@mcpnews) January 21, 2016
More..Randolph Rd, Police & Fire Investigators on scene, fire cause under investigation, EMS transported 1 w/NLT inj pic.twitter.com/Vvw967RLC6

— Pete Piringer (@mcfrsPIO) January 21, 2016
More – Randolph Rd & Parklawn Dr, 1 fatality, adult male found in tent, fire engulfed tent & several nearby vehicles pic.twitter.com/Y6qJGK6U2B

— Pete Piringer (@mcfrsPIO) January 21, 2016
R/O 5400blk Randolph Rd, homeless encampment tent fully involved upon arrival, incl several cars, 1 occupant trapped pic.twitter.com/7kekQqLkdf

— Pete Piringer (@mcfrsPIO) January 21, 2016
Randolph Rd & Parkland Dr, structure fire, incl several vehicles

— Pete Piringer (@mcfrsPIO) January 21, 2016
Update/Vicinity Randolph Rd near Parklawn Dr, fire involved small 'homeless encampment/tent', bulk of fire knocked down, EMS evaluating inj

— Pete Piringer (@mcfrsPIO) January 21, 2016