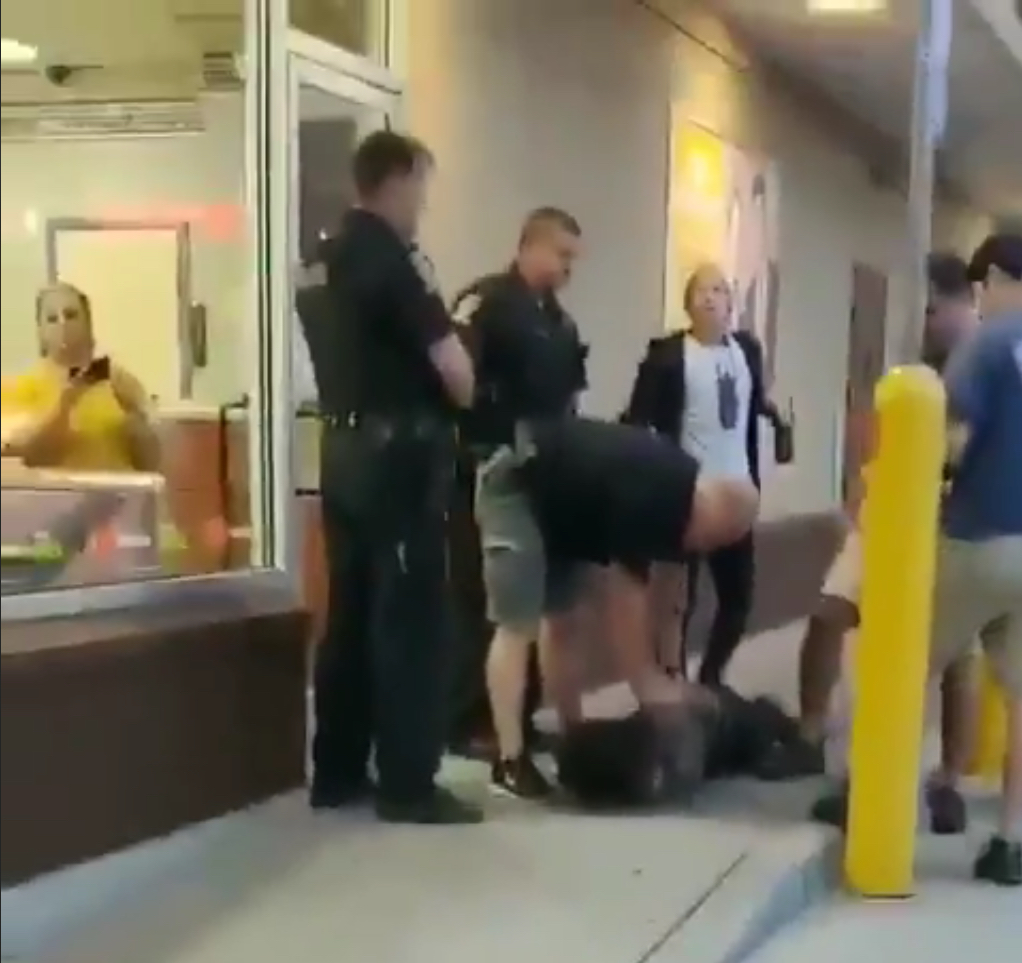 UPDATE: Investigation into Use of Force to Go to State's Attorney
Update, 7:30 a.m. Friday: The Montgomery County Police will discuss the use of force in an Aspen Hill arrest with the State's Attorney, after cellphone video showed an officer kneeing a prostrate man.
"There may be criminal charges out of this," said Capt. Thomas Jordan, a police spokesman, on Friday morning.
In the video, posted on Twitter, the N word and other verbal epithets can be heard.
"Our preliminary review does not seem to support [the officer] using the N-word," Jordan said. However, police will review the arrest from the body cam footage of the officer, he said.
Another cellphone video, published on Twitter by ABC7's Kevin Lewis, shows about a minute and a half of the young man's interaction with police inside a McDonalds. Note: Some viewers may find the contents of the video disturbing.
NEW: Yesterday video surfaced on Twitter showing an altercation between MoCo Police and a male suspect at the McDonald's in Aspen Hill, Md. In it, a male officer is seen driving his knee into the suspect's head.

I just obtained this clip, showing more of what led to that moment. pic.twitter.com/fRptFXsLQD

— Kevin Lewis (@ABC7Kevin) July 4, 2019
I've seen two highly disturbing videos of the Aspen Hill arrest & spoken w Acting Chief Jones. The incident is referred to Internal Affairs for investigation & referred to MoCo State's Atty for possible criminal violations.
I'll follow this closely. Witnesses: 240-773-6000 https://t.co/MkiQLVTwGK

— Tom Hucker (@tomhucker) July 4, 2019
Original Post: A disturbing video has been posted to Twitter showing a Montgomery County police officer making an arrest, slamming an already prostrate young man onto a concrete sidewalk.
A tweet from police said the department was investigating the incident. In the recording, the officer uses the N-word and F-bombs profusely. The arrest was recorded on a cellphone camera.
Police said, via Twitter, the arrest took place in Aspen Hill and the officers have been identified. The tweet says police are investigating the incident.
"The Montgomery County Department of Police takes any complaints or  evidence  of excessive force seriously.  An investigation into this matter has been opened and will be investigated thoroughly.  Additional information will be provided as it becomes available," the police tweeted.
Montgomery County Councilman Will Jawando posted: "It's hard to imagine what circumstances would prompt the officer to use that level of force with a suspect who is already on the ground and restrained. I've spoken to Chief Jones, and the department has already opened an internal investigation."
The video is contained in the following tweet. Note, some readers might find the contents of the video and the tweet offensive.
Aye y'all get this viral for me my bro peso got slam for no reason fuck y'all MOCO police I swear y'all niggas pussy y'all wanna treat us like dogs we gonna treat y'all like dogs we gonna show y'all how we do police @mcpnews pic.twitter.com/rTixtw0wOf

— PLU$XANZ (@PLUSXANZ) July 4, 2019
We are aware of the video that was posted on Twitter regarding the use of force during an arrest by officers from the Montgomery County Police. The event occurred in the Aspen Hill Shopping Center in the 4th District. The officers involved have been identified.

— Montgomery County Department of Police (@mcpnews) July 4, 2019
It's hard to imagine what circumstances would prompt the officer to use that level of force with a suspect who is already on the ground and restrained. I've spoken to Chief Jones, and the department has already opened an internal investigation. https://t.co/3iXI1rj48N

— Will Jawando (@willjawando) July 4, 2019