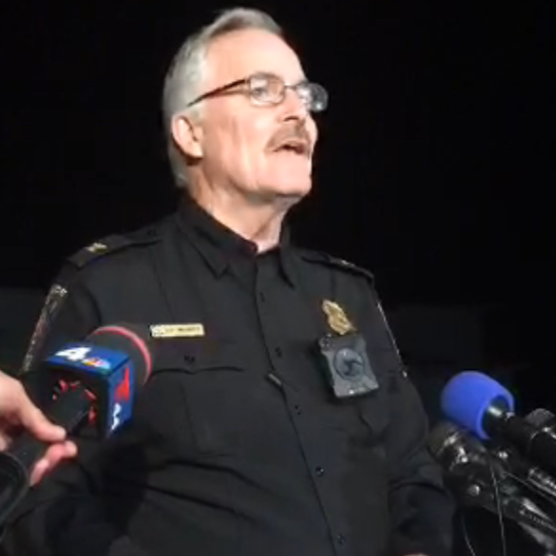 UPDATE: Police Name Victims in Monday Triple Homicide
Update, Tuesday, 2:05 p.m.: Montgomery County police released new details from the triple homicide in Sunshine on Monday afternoon.
Police believe Christopher Wilson Snyder, 41, of 22001 Brown Farm Way killed three people:
– Mary Ann Olson, 66, who lived at 22002 Brown Farm Way.
– Danny Lee Murphy, 70, of East Spearfish Drive in Brandon, South Dakota.  He was visiting the residents of 22002 Brown Farm Way.
– Craig Harold Shotwell, 54, of Wards Chapel Road in Owings Mills, Maryland.  He was performing work at the home at 22002 Brown Farm Way.
While the motive remains under investigation, Snyder's wife told investigators that she had been held in the home against her will by her husband during the weekend and found the opportunity to escape to her neighbor's home at 22002 Brown Farm Way, police said.
Investigators believe this caused Snyder to go to that neighbor's home where he shot and killed the three victims.
Update, Tuesday, 10 a.m.: A man shot three people in a neighboring home before turning a gun on himself, Montgomery County Police Chief Tom Manger said at a midnight news conference at the scene.
The shootings took place about 3:45 p.m. Monday in the 22000 block of Brown Farm Way, a neighborhood of large homes and sprawling yards just east of the crossroads community of Sunshine, where Georgia and New Hampshire avenues intersect in northern Montgomery County.
The man, Christopher Wilson Snyder, had held his wife in their home, Manger said.
"She reports she had been held by her husband over the weekend and took an opportunity to run out of the house and went into the neighbor's house," Manger said at the news conference, broadcast over social media.
She fled to a neighbor's house with six adults present. Snyder followed, shooting and killing three. Three others escaped including the wife, Manger said. Snyder then fled.
Officers believed Snyder was holed up in his own home across the cul-de-sac, Manger said, and police negotiators began talking to Snyder over the phone.
Meanwhile, tactical unit officers arrived. About 11 p.m., the tactical unit breached the front door to Snyder's home, while he was on the phone with negotiators. He hung up the phone. Officers heard a single gunshot, and he was found dead, Manger said.
"We've had a number of contacts with this suspect in the past over a number of different issues," Manger said.
At the news conference, Manger did not name the deceased, however he said one lived in the home, one was visiting and one was working on the home.
Police were still searching the home because Snyder mentioned explosives and guns in the house.
Update to Brookeville Incident https://t.co/0lgJA49L0j

— Montgomery Co Police (@mcpnews) May 8, 2018
Original post: Montgomery County police are responding to a domestic disturbance in the 22000 block of Brown Farm Way, east of the small town of Sunshine. Sunshine is a crossroads community where Georgia and New Hampshire avenues intersect in the northern part of the county.
A tweet from police says there are multiple fatalities.
The shooter potentially is known to police, spokeswoman Lucille Baur said. She would not say why.
Police have established a perimeter around the home, she said. SWAT members were among the units that responded to the incident, she said.
Montgomery County Fire and Rescue spokesman Pete Piringer is telling people to stay away from the area.
Brown Farm Way is a cul-de-sac with large homes ranging from about 4,000 square feet to about 6,000 square feet, according to Maryland tax records. Lot sizes range from about 1.5 acres to 2.2 acres.
Nina Habibi, an owner at the Empire Cafe & Market in Sunshine, said the incident occurred about a mile from her store. She said she could see many police officers. She said she believed three or four people had been shot.
"The shooter is still loose," Habibi said. "We're open. We cannot go home."
Update: Residents in area should shelter in place. We will provide updates to residents as circumstances change.

— Montgomery Co Police (@mcpnews) May 7, 2018
MCP responding to call for domestic disturbance with initial report of multiple people shot inside a home in 22000 block of Brown Farm Way east of Sunshine. PD activity affecting traffic on Rt 650 south & east of Sunshine. PIO enroute to scene. Updates to follow

— Montgomery Co Police (@mcpnews) May 7, 2018
Update to call for domestic disturbance: Multiple fatalities. Suspect involved is believed to be known to police. Suspect not in custody. Cannot confirm if domestic related but do not believe this was random.

— Montgomery Co Police (@mcpnews) May 7, 2018
Traffic Advisory – New Hampshire Ave. and Georgia Avenue, PD & FD activity in area, some lanes BLOCKED, stay away https://t.co/0ljsKGDNjp

— Pete Piringer (@mcfrsPIO) May 7, 2018
This story will be updated.