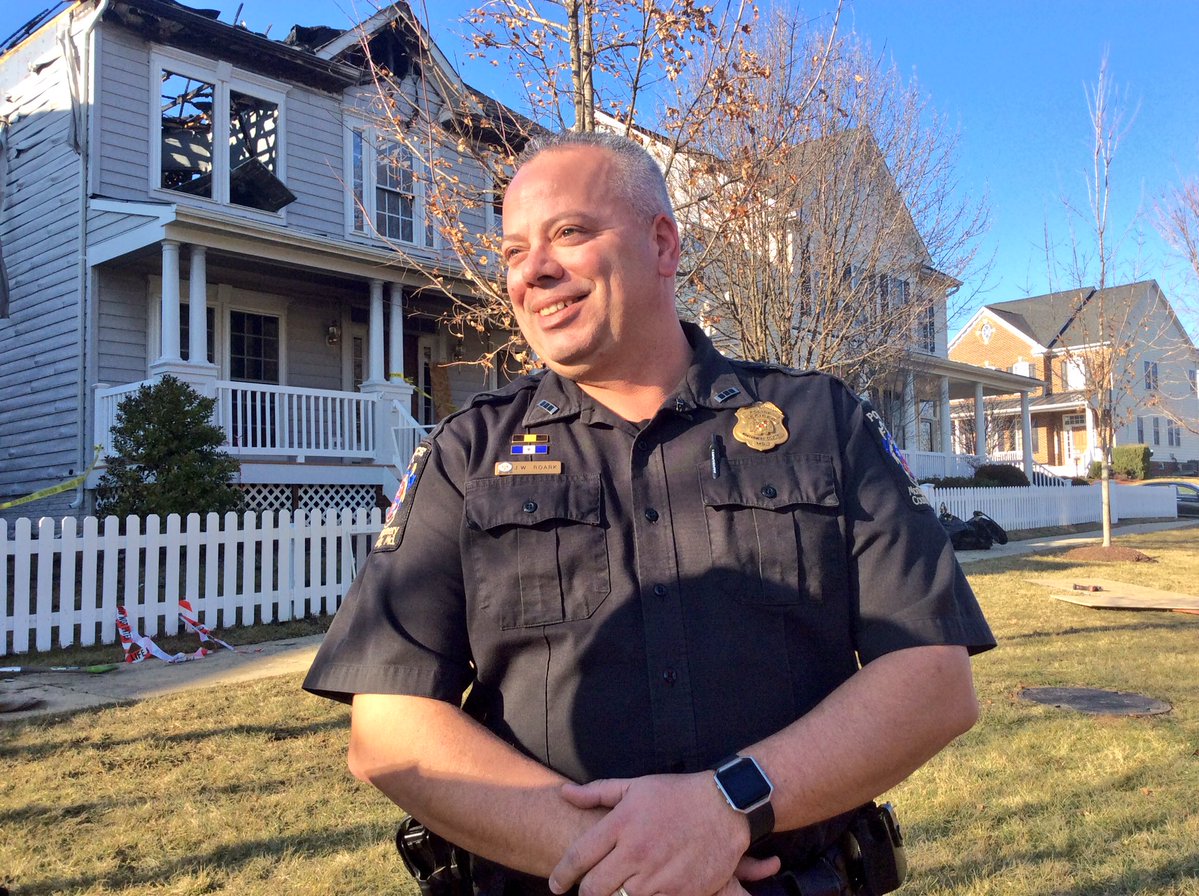 Police Officer Helped Evacuate Neighbors During Clarksburg House Fire
A Montgomery County police officer is credited with saving lives after he alerted neighbors to a house fire on Sunday morning in the 23100 block of Persimmon Ridge Road in Clarksburg.
Officer Jon Roark, a 14-year veteran, said he was on patrol just five minutes away when the call was dispatched shortly after 2:30 a.m. on Feb. 19. Roark was the first to arrive at the scene.
"I saw flames from the back of the house, didn't look too bad yet, a lot of smoke," he said. "I saw the family out here in front of the house on the sidewalk."
Roark said after made sure the family was accounted for and okay before he moved them, two adults and two children, across the street from the fire to his police cruiser.
Then, he began knocking on the doors of the adjacent homes as the wind began whipping the fire.
At the first house, he recalled there was a lot of confusion when he informed the resident at the door that her neighbor's house was on fire.
"There was a lot of confusion, a lot of disbelief," he recalled, noting it was the middle of the night.
At the second house on the corner, he had to knock on the door several times to get the residents up. "They had no clue what was going on," he said.
"We got them across the street to safety as fire rescue came in," Roark said.
Firefighters arrived quickly, according to Roark, and they retraced his steps making sure everyone got out safely.
"They did a great job," Roark said. He believes firefighters' quick response saved one of the adjacent homes from more damage. "I'm certain it wouldn't have been too much longer before it would have gone up as well," he said.
Fire and Rescue spokesperson Pete Piringer said about 75 firefighters responded to the blaze that caused an estimated $700,000 in damages. Piringer said the fire was sparked by improperly discarded smoking material.
As for Roark's lifesaving actions, he insists it was a team effort.
"It's just instinct," Roark said. "You are trained to preserve life and protect property."
"I'm humbled to be here," he said. "To be able to stand here, and see that there was nobody injured. Property can be replaced but people can't."
Roark also commended the community's response. He described neighbors bringing coats and blankets to the displaced residents in the middle of the night during the fire. "It was just a great team effort by the community and public safety in general," he said.
Officer Roark alerted neighbors to a fire on Persimmon Ridge Rd overnight in Clarksburg. He was on patrol nearby when call was dispatched. pic.twitter.com/pk12PuGBdP

— Sonya Burke (@SonyaNBurke) February 19, 2017
(VIDEO) In his own words, Officer Jon Roark describes his actions at scene of Clarksburg house fire earlier today. pic.twitter.com/MWoSAMqfpi

— Sonya Burke (@SonyaNBurke) February 19, 2017
UPDATED: Dozens of Firefighters Battle House Fire in Clarksburg Overnight (PHOTOS)