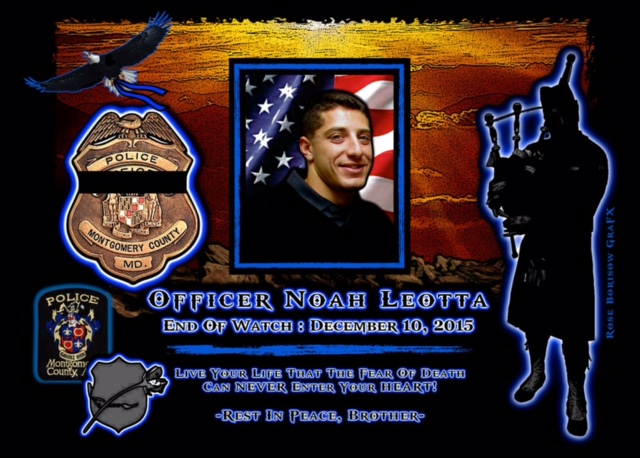 Police Officer Noah Leotta Dies at Age 24 (VIDEO)
UPDATED Montgomery County Police Officer Noah Leotta, who was struck by a vehicle one week ago today while working as part of a Holiday Task Force in Rockville, has passed away at a local hospital.
The Montgomery County Police Department paid tribute to Leotta today outside the Wheaton Police Station on Randolph Road.
Leotta, 24, grew up in Montgomery County. He was a Sherwood High School graduate and he attended Montgomery College. He interned with the Police Department from Dec. 2011 to Jan. 2013.
In January 2013, Leotta was hired as a Montgomery County Police Officer candidate and attended the Montgomery County Police Academy as a member of Session 58. The class graduated in July 2013 and Leotta was assigned to the 4th District for field training. When he completed his training, he remained in the 4th District as a 4th District patrol officer.
"Noah loved his job and demonstrated a level of enthusiasm that drove a work ethic and professionalism that we can all aspire to," said Police Chief Tom Manger. "These qualities made him the man and the police officer that he was."
On the night that he was struck, Officer Leotta was working as a member of the annual Holiday Alcohol Task Force. Police said the driver involved in the collision is suspected of driving under the influence of drugs and alcohol.
Leotta's colleagues said he had a passion for serving the community and was an exemplary officer as evidenced by comments in a recent performance evaluation. His supervisor wrote: "He arrives at work early every day with a smile on his face as though he can't wait to start the day. His enthusiasm for the job is unwavering and infectious." His supervisor further explained, "He is humble and selfless and never seeks any recognition for himself. Officer Leotta is always willing to help out fellow officers in any way he can."
Montgomery County Council President Nancy Floreen has released a statement on behalf of the Council.
"On behalf of the County Council, I want to extend our deepest sympathies to the family of Police Officer Noah Leotta," said Floreen. "In the days since he was severely injured in the line of duty, we have heard so many people he worked with, and so many in the Olney community where he grew up and lived, talk about his zest for life and love of his job as a member of the County Police Department. He represents the best of our Police Department and our community.  This is a sad day for all residents of Montgomery County."
Congressman Chris Van Hollen said, "Officer Noah Leotta's dedication to our community will never be forgotten."
Councilmember Sidney Katz said, "Our hearts go out to the family, friends and colleagues of MCPD Officer Noah Leotta, who passed away this morning, age 24."
Councilmember Marc Elrich said: "On behalf of my colleagues on the Public Safety Committee, we extend our deepest condolences to the family and friends, and to fellow Montgomery County Police officers, on the devastating loss of Officer Noah Leotta…he was caring, compassionate, diligent and dedicated to making his community a better place. We mourn his tragic and senseless death."
Anyone wishing to send condolences to Noah's family may email his family at: fornoah@montgomerycountymd.gov. The mailbox is designated for sending thoughts and prayers to Officer Leotta's family
People may also deliver or mail cards/messages to:
The Leotta Family
Montgomery County Police Department – 4th District
2300 Randolph Road
Wheaton, Maryland 20902
Officer Leotta's family has requested that anyone wishing to make donations in memory of Officer Noah Leotta make them to the following organizations:
Mothers Against Drunk Drivers (M.A.D.D.)
10440 Shaker Drive
#207
Columbia, MD 21046
www.madd.org
HEROES, Inc.
1200 29th Street, N.W.
Washington, DC 20007
www.heroes.org
Concerns of Police Survivors (C.O.P.S.)
P.O. Box 3199
Camdenton, MO 65020
Officer Noah Leotta's dedication to our community will never be forgotten. RIP to one of Montgomery County's bravest https://t.co/ZyKeIdKefQ

— Chris Van Hollen (@ChrisVanHollen) December 10, 2015
Our hearts go out to the family, friends and colleagues of MCPD Officer Noah Leotta, who passed away this morning, age 24.

— Sidney Katz (@MC_Council_Katz) December 10, 2015
MCPD Officer Noah Leotta – End of Watch: December 10, 2015. May He Rest in Peace: https://t.co/oGdpCE9GZW pic.twitter.com/JqGS0E4t8n

— Montgomery Co Police (@mcpnews) December 10, 2015
Related Posts: