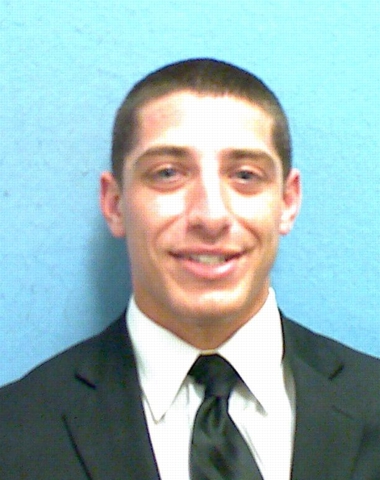 UPDATED: Police Officer Struck by Vehicle During Traffic Stop Remains in Critical Condition (PHOTO)
A Montgomery County police officer is fighting for his life after he was struck by a passing vehicle Thursday night while he was conducting a traffic stop along Rockville Pike at Edmonston Drive.
Police have identified the officer as 24-year-old Noah Leotta.
"Noah is not only a dedicated young police officer, he is a caring person who became a cop to serve the community where he grew up. He needs everyone's prayers as he fights for his life," says Police Chief Tom Manger.
According to police, the on-scene investigation by the Collision Reconstruction Unit detectives indicates that Officer Leotta was conducting a traffic stop in the curb lane of northbound Rockville Pike and Edmonston Drive. During the course of this traffic stop, police said a 2012 Honda CRV, traveling north on Rockville Pike, first struck the officer's marked cruiser and then struck Officer Leotta, who was outside of his vehicle.
The driver of the CRV, identified by police as Luis Gustavo Reluzco of Olney, remained at the collision scene. Police said Reluzco was taken into custody under the suspicion of driving under the influence of alcohol and drugs. Due to the seriousness of the officer's injuries, police said Reluzco was required by Maryland law to submit to a blood test that will be analyzed for alcohol. Those results are pending, according to police. Collision Reconstruction Unit detectives continue to investigate the collision.
Officer Leotta is a 4th District officer, who was working as a member of the Holiday Alcohol Task Force. Before serving as a Montgomery County Police officer, Officer Leotta interned with the Department in a unit that focuses on impaired driving enforcement.
Anyone who witnessed this collision or has information about this collision is asked to call the Collision Reconstruction Unit at 240.773.6620.
Officer Noah Leotta remains in critical condition. Thank you for keeping him in your thoughts and prayers:https://t.co/t9BGoeMMHU

— Montgomery Co Police (@mcpnews) December 6, 2015
Officer Noah Leotta remains in critical condition. Please keep him in your thoughts and prayers: https://t.co/83T1i9hHMu — Montgomery Co Police (@mcpnews) December 5, 2015
Officer Noah Leotta,struck by suspected DUI driver, remains in critical condition. TY for continued thoughts/prayers:https://t.co/6ZeQYmPfLb

— Montgomery Co Police (@mcpnews) December 4, 2015
9:45 pm – MCP officer struck by vehicle while on foot during traffic stop on Route 355 (Rockville Pk), south of Edmonston Dr. MORE — Montgomery Co Police (@mcpnews) December 4, 2015
Cont – MCP officer transported to hospital w/ serious injuries. Striking vehicle/driver remained on scene. MORE — Montgomery Co Police (@mcpnews) December 4, 2015
Cont – Collision Reconstruction detectives at scene. Rt. 355 is closed in both directions from Edmonston Dr. to Talbot St. MORE — Montgomery Co Police (@mcpnews) December 4, 2015
Cont – Driver of striking vehicle taken into custody – MCP investigating possibility that driver was under influence of alcohol. MORE — Montgomery Co Police (@mcpnews) December 4, 2015
MCP is not releasing name of officer at this time. — Montgomery Co Police (@mcpnews) December 4, 2015
Update – Rockville Pike & Edmonston Dr, Ped Struck (945p) EMS transported 1 adult male, Pri1 w/ traumatic injury pic.twitter.com/f2YakBL1dz — Pete Piringer (@mcfrsPIO) December 4, 2015
Our officer remains in serious condition at a local hospital. We thank you for your continued thoughts and prayers. — Montgomery Co Police (@mcpnews) December 4, 2015

Related Posts: