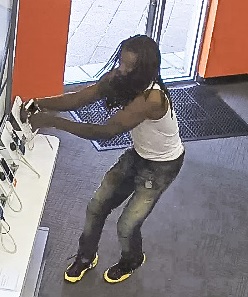 Police Release Photos and Surveillance Video of Cell Phone Theft Suspects (VIDEO)
Montgomery County police officers and Rockville city police officers are investigating five thefts from cellular phone stores that investigators believe were committed by the same group of suspects.
According to police, the suspects have taken electronics worth a total of approximately $18,200.
Investigators have released video surveillance (see below) from an AT&T store in Wheaton, and photographs of three of the suspects (see below) in hopes someone from the public can identify them.
In each of these thefts, police said two to three suspects enter a wireless communications store (in these cases either AT&T or T-Mobile) during normal business hours. Often, there are customers in the store when the suspects commit the thefts. Police said the suspects pull the display electronics (cellular phones and tablets) from the security cords that hold the items to the display counters. The suspects are in the store for a short time, according to police. The suspects then flee with the electronics and, according to some witnesses, enter a vehicle waiting for them. During the July 30 theft, as the two suspects fled, police said they assaulted employees. The victims suffered non-life-threatening injuries.
Police said the cell phone thefts occurred on these dates and locations below:
June 25, 2016, AT&T Store, 11427 Georgia Avenue, Wheaton, 2 p.m.
June 27, 2016, T-Mobile Store, 2800 University Boulevard West, Wheaton, 10:51 a.m.
July 19, 2016 – AT&T Store, 11427 Georgia Avenue, Wheaton, 10:37 a.m. (videos above)
July 21, 2016, AT&T Store, 1600 Rockville Pike, Rockville, 11:17 a.m. – Rockville City Police investigation
July 30, 2016 – AT&T Store, 1304 E Gude Drive, Rockville, 12:19 p.m. – Rockville City Police investigation
Anyone with information about these thefts or the suspects involved is asked to call the 4th District Patrol Investigation Unit at 240.773.5476. To be eligible for a reward, tipsters must call Crime Solvers of Montgomery County toll-free at 1.866.411.TIPS (8477). Callers to Crime Solvers will remain anonymous.
Detectives Investigate Five Thefts from Cellular Phone Stores: https://t.co/6ngyKVGsQK https://t.co/viAvVcqCuT Crime Solvers:1-866-411-8477

— Montgomery Co Police (@mcpnews) September 12, 2016