Police Release Week Three Alcohol Task Force Results, 39 DUI Arrests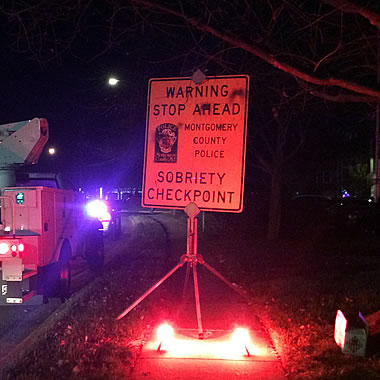 The Montgomery County Police Alcohol Holiday Task Force is running now through Jan. 7.
The task force is comprised of officers from the Alcohol Initiatives Section and patrol officers from the six police districts, as well as officers from the Gaithersburg City Police Department, the Maryland National Capital Park Police Department (Montgomery County Division), Maryland State Police, the Montgomery County Sheriff's Office, and the Takoma Park Police Department.
This task force devotes is full time to detecting alcohol related offenses. The police department recently released its week three results.
November 30, 2016 – December 3, 2016
39 – Arrests for Driving Under the Influence of Alcohol (DUI)
2– Civil Alcohol Citations issued to adults for possession of alcohol under the age of 21
3 – Criminal Citations issued to adults for selling alcohol to a minor in a business
1 – Criminal Citation issued to adult for having an open container in a prohibited place
7 – Civil Alcohol Citations issued to juveniles for possession of alcohol under the age of 21