Police Report New Development in Lyon Sisters Disappearance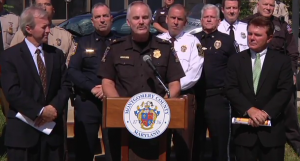 Montgomery County Police Chief Thomas Manger will meet with the media on Feb. 11 to announce a significant development in the March 25, 1975 disappearance of the Lyon sisters.
Manger will be joined by Special Agent in Charge of the FBI in Maryland, Steve Vogt.
This nearly 40-year-old cold case began on March 25, 1975, when Sheila Lyon, age 12, and Katherine Lyon, age 10, left their home and walked to the Wheaton Plaza,  a nearby shopping center. The girls never returned home.
An extensive search and investigation was immediately initiated. Investigators spoke with witnesses who observed the sisters inside the shopping mall before their disappearance.
Detectives have now identified a person of interest who was at Wheaton Plaza on the day the girls disappeared. This person is a convicted child sex offender, is currently incarcerated, and had travelled extensively throughout the United States.
Investigators are requesting assistance from the public in gathering information about this person, his associates, and his activities.

Related posts: