UPDATE: ATF Joins Investigation of Rockville Gun Shop Burglary (VIDEO)
The two burglars of a Rockville gun shop used crowbars Thursday morning to open the front door of the business to steal about 24 handguns and seven long guns, according to a statement from Montgomery County police.
Police said the Bureau of Alcohol, Tobacco, Firearms and Explosives (ATF) have joined the investigation, which occurred about 3:50 a.m. at the United Gun Shop at 5465 Randolph Road. They entered the store, smashed the glass display cases using crowbars, and removed guns from display cases and shelves. The burglars were in the story approximately 90 seconds, and by the time police arrived, the burglars had fled, police said.
The statement said detectives and ATF investigators continue to work with the store owner to determine the precise number and types of firearms that were stolen. Investigators believe that the suspect's fled in a light colored four-door sedan, as the car was seen on area video surveillance, police said.
The suspects were wearing dark clothing, gloves, and had their faces concealed.
County police and the ATF are releasing surveillance video of the burglary suspects and a reward for information is being offered.
County police, ATF and the trade association for the firearms industry, the National Shooting Sports Foundation, have announced a combined reward of up to $10,000 for information leading to the arrest and conviction of those responsible.
Anyone with information is asked to call the ATF's 24/7 hotline at 1.888.ATF.TIPS (1.888.283.8477) or send an email to ATFTips@atf.gov.  Residents can also send a text anonymously via the ReportIt mobile app, available through www.reportit.com
Original post: Two people robbed a Rockville gun store of multiple handguns and long guns early Thursday morning, Montgomery County police said.
The alarm sounded at the United Gun Shop in the 5400 block of Randolph Road about 3:50 a.m., a police spokesman said.
"Anytime we have firearms taken from homes in burglaries, we're concerned," Officer Rick Goodale said. "But whenever you have a gun store targeted and multiple firearms of various types taken, it significantly increases our level of concern."
More details as they become available.
Google maps of location of gun shop: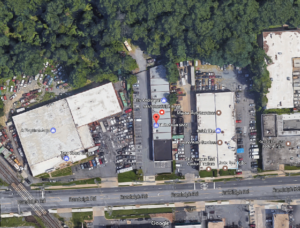 Surveillance video: