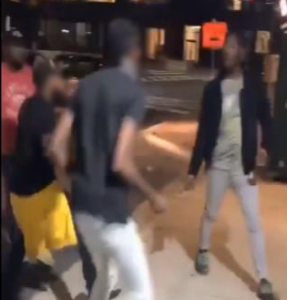 Police Seek Help Identifying Silver Spring Stabbing Suspects
Montgomery County police detectives have released a photo calling for the public to help identify two men in connection with the stabbing of a 34-year-old man on May 8. The stabbing occurred on Bonifant Street in downtown Silver Spring.
Detectives reported that the victim and the first man were involved in an altercation at around 4 a.m. in the 900 block of Bonifant Street. The first and second man then approached the victim a few minutes later and assaulted him. They fled the area afterwards, and the victim was driven to Holy Cross Hospital in Silver Spring.
The two men are on opposite sides of the picture on the right. The first man is on the right, wearing a black jacket over a gray shirt. The second man is on the left, wearing a red shirt.
The investigators are asking for anyone who has information about the men to contact the 3rd District Investigative Section at 240-773-6870, or leave an anonymous tip for Crime Solvers at 1-866-411-8477.