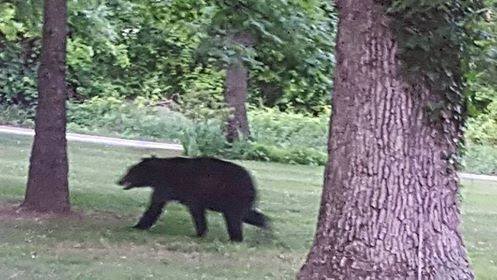 Poolesville Bear Making Social Media Buzz
He's got 252 followers on Facebook and his very own Twitter page. He's one of the most talked about residents of the Poolesville area and in the past few days he turned up at the local Beallsville playground and at a Beallsville Teddy Bear Tea Party venue.
He's affectionately known as the Poolesville Bear. And he's creating a buzz in the upcounty.
While Joe Long has reported seeing a bear enjoying honey from his bee colonies on his property off White's Ferry Road in March, Joyce McCartin and her husband Tom are the latest to cross paths with a bear.
"Our dogs were barking and we generally don't pay attention because we have a lot of animals in the yard but they were growling too, so we got up and went to the front of the house and my husband yelled, 'bear!'" McCartin said of the May 28 sighting.
Tom McCartin managed to snap a picture of the black bear crossing their large estate, which is also the Old Oaks Estate, a venue for weddings and a special event called the Teddy Bear Tea Party. He put his photo on the Town of Poolesville facebook page and quickly got more than 130 likes and another 51 comments on it. No events were happening when the bear made its appearance on the property.
"It was a good photo. It's hard to catch a bear on the run," she said.
Joyce McCartin said she's not scared of the bear, saying she's learned making noise often will scare them off.
"We'll make a lot of noise with our champagne glasses," she said.
It's unclear whether the bear that was spotted at the Old Oaks Estate and the one that tore apart Joe Long's bee colonies are one and the same. Department of Natural Resources' top bear expert Harry Spiker recently told those who attended a community meeting on bears at the Izaak Walton League in Poolesville that bears could be traveling through the Poolesville area and that resident bears have been tracked in nearby Frederick, Allegany and Garrett counties.
The Poolesville bear may be some distance cousin of the slightly more social media savvy NIH Bear whose Twitter feed has  3,657 followers. In fact NIH Bear had a few words of advice for the Poolesville bear when contacted by MyMCMedia on Wednesday-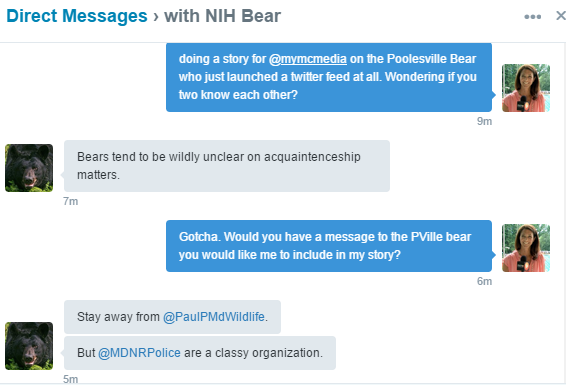 On Facebook the Poolesville bear's status is "In a complicated Relationship."
It's up for discussion whether that relationship is with the people of the upcounty.