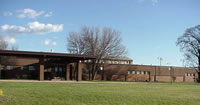 Poolesville High Principal Sends Letter of Concern Following Underage Drinking Party
Poolesville High School Principal Deena Levine sent parents and guardians a letter of concern following a reported underage drinking party that happened on the weekend of Jan. 10.
"Students have shared with PHS administration that a field party occurred this past weekend that involved underage drinking, reckless driving, and police intervention," Principal Levine said.
Administrators were informed of references to the party on social media pages as well.
You can view the full letter below.