Poolesville's First Music & Arts Festival Aug. 9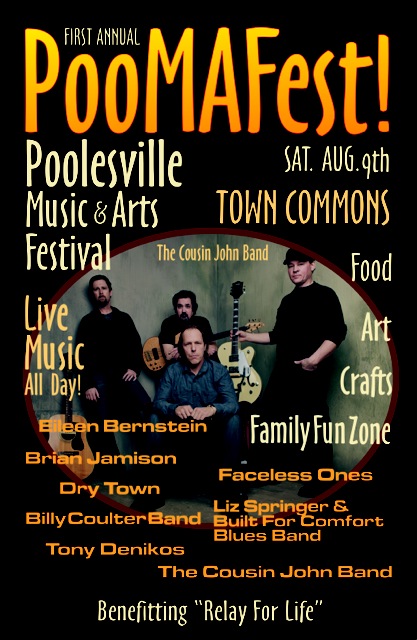 The First Annual Poolesville Music & Arts Festival will be held Saturday, August 9 from 11 a.m. to 6 p.m. in Whalen Commons, 19701 Fisher Ave. The free outdoor concert includes eight bands, crafts, face painting, family face painting and food. wine tasting and more. Rocklands Farm Winery will feature wine tasting. Proceeds will benefit Poolesville's Relay for Life for the American Cancer Society.
Bands scheduled to perform include:
11 a.m. – Eileen Bernstein/Brian Jamison
Noon – Dry Town
1 p.m. – Billy Coulter Band
2 p.m. – Tony Denikos
3 p.m. – Faceless Ones
4 p.m. – Liz Springer and Built for Comfort Blues Band
5 p.m. – Cousin John Band
Food Vendors include:
3rd Alarm BBQ
Poole's Funnel Cakes & Fries
Cugini's
For more information, visit Poolesville Music and Arts Festival.