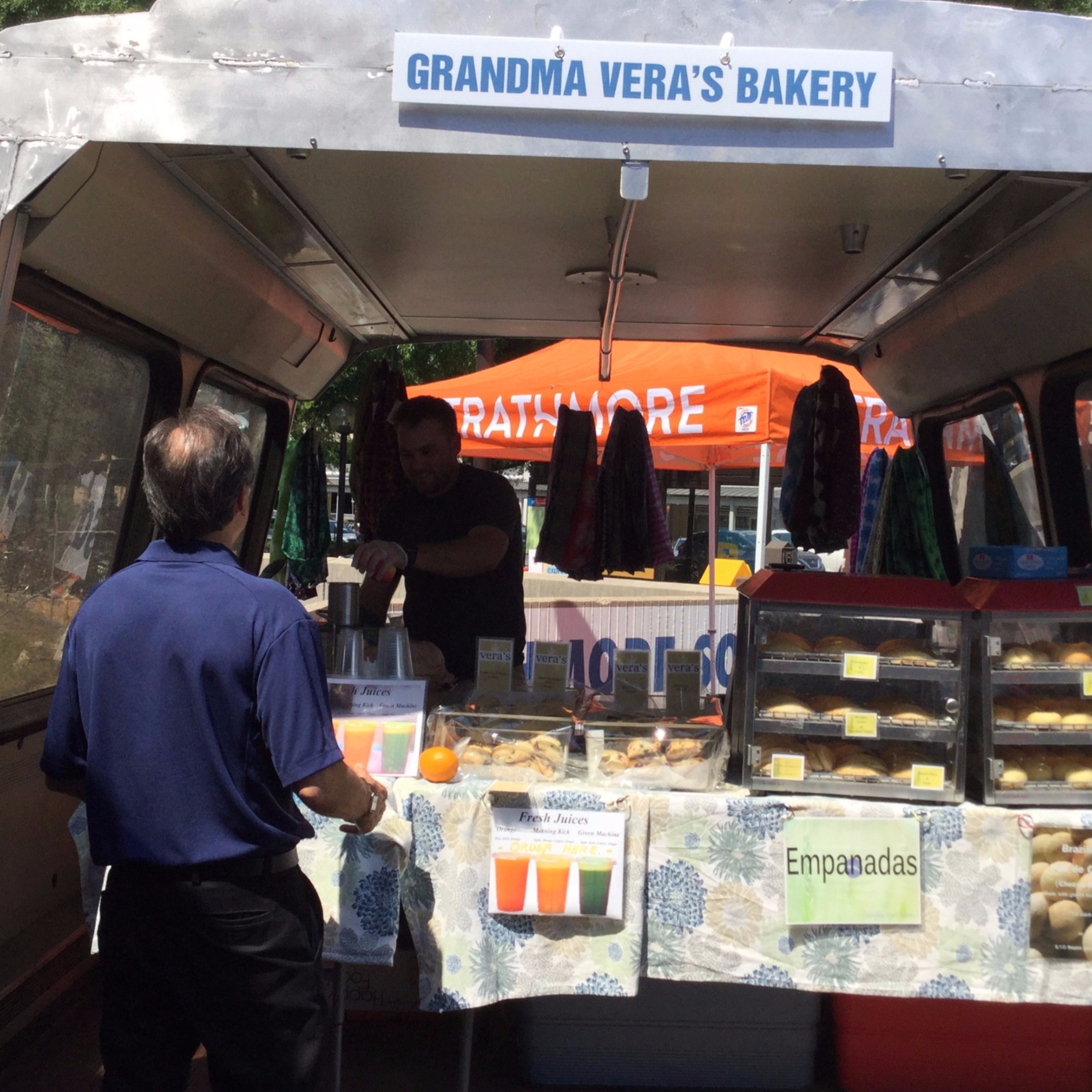 Pop-Up Shops Return to Grosvenor-Strathmore Metro Station
After a seven-week trial in spring, the pop-up vendor plaza has returned to Grosvenor-Strathmore Metro Station. Shops have been created by carving a former Metro 4000 series railcar into sections.
Commuters and neighbors can stop and shop from several local retailers from 3:30 p.m. to 7 p.m., every Wednesday, Thursday and Friday. The pop-up plaza will last through Oct. 27, and vendors will offer freshly baked breads, fully prepared dinners, fabulous desserts and locally roasted pour-over coffee.
Some vendors are returning from the spring trial: Borekg Turkish Bakery, Galley Foods, Great Harvest Bread Co., Millie's International Creations, The Red Bandana Bakery and Yoga in a Bowl. And some vendors are new: BeAdmired, Creative Arts, FRESHBLEND Juices, Mayorga Organics and Spring Mill Bread Co.
Local artists and Strathmore Artists-in-Residence will provide free, live musical performances from 4 p.m. to 6 p.m. The acts are:
Chuck Holden International Jazz Vocalist (Wednesday, Oct. 11)
The Ladies of the Outskirts (Thursday, Oct. 12)
Herb and Hanson (Friday, Oct. 13)
Bliss the Electric (Wednesday, Oct. 18)
Wytold (Friday, Oct. 20)
29 & Georgia (Wednesday, Oct. 25)
Charles E Smith Jewish Day School Chorus (Thursday, Oct. 26)
Be Steadwell (Friday, Oct. 27)
Three special weekend events are scheduled in October:
Family Arts & Chalk Festival (Saturday, Oct. 14, 2017, 9 a.m. to 1 p.m.) – Bring the kids to create chalk art, make wind charms, challenge each other in giant Jenga, browse selections from Tutu's Storybooks, and support Melwood by buying your fall mums.
Movie at the Metro (Saturday, Oct. 21, 7 p.m. arrival) – Bring your lawn chairs, blankets and coolers, and we'll provide the free popcorn as you watch the 3D fantasy comedy, "Hotel Transylvania."
Bike Connectivity Day (Saturday, Oct. 28, 9 a.m. to 1 p.m.) – With bike-share options and dedicated lanes, many commuters are opting for two-wheels instead of four. We're offering hands-on tutorials to show you how easy it is to bike one way, then put your cycle on the bus, plus demonstrations for quick fixes and easy roadside repairs.
For more details on Strathmore Square and to view the complete schedule of events this fall, please visit us on the web at: http://www.strathmoresquare.com, on Twitter: @Strathmore_Sq and Face book: Grosvenor Strathmore Metro Redevelopment
Previous Posts: