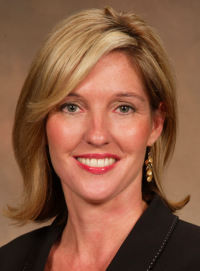 Sears Named MBDC President
The Montgomery Business Development Corporation (MBDC), which was created two years ago by the Montgomery County Council and given the mission of helping to retain and attract businesses, today announced the appointment of Holly Sears as its first president.
Sears, who was selected after a national search, will begin her duties on Nov. 26.
The County Council established the MBDC with the overall goal to promote practices that will help sustain current businesses and encourage new businesses to relocate to the County. From its origin, the quasi-public, nonprofit MBDC has sought to engage executive level business leaders to establish a vision for the County's long-term economic future; to develop and articulate strategies to achieve that vision; to advocate for strategic changes in practices and policies; and to set performance metrics and report on their achievement.
Sears was appointed to help the organization work toward those goals. She previously served as the Vice President of Economic Development for the Rutherford County Chamber of Commerce, near Nashville, Tenn.
"Holly brings an outstanding technical and leadership skill set to help MBDC effectively accomplish its mission to effect positive changes in the economic model of Montgomery County," said Brian Gragnolati, chairman of the MBDC Board of Directors. "The board is eager to introduce her to the local business community."
During Ms. Sears's tenure in Rutherford County, she led in excess of 300 projects, recruited and negotiated more than $6 billion in capital investments. In June 2012, the Bureau of Labor Statistics ranked Rutherford County as fourth in the U.S. for new growth in the prior year.
Ms. Sears has a B.A. and M.S. in Urban and Regional Planning from the University of Tennessee. Prior to joining the Rutherford County Chamber staff, she worked at the State of Tennessee's Department of Economic and Community Development and was the executive director of the Joint Economic and Community Development Board of Wilson County, Tenn. She currently serves as chair of the NAIOP National State and Local Committee. Prior to relocating to Maryland, Ms. Sears was the chair-elect of the NAIOP-Nashville Board of Directors. She has served on the board for the Tennessee Economic Partnership and was appointed to serve as the Tennessee State Alliance co-chair representing the Public Sector for the International Council of Shopping Centers.
"Through the Montgomery Business Development Corporation, we get guidance from the business community's perspective on how to handle important issues. These informed recommendations are invaluable to us," said Montgomery County Councilmember Nancy Floreen, the lead sponsor of Bill 28-10 that established a business development corporation for Montgomery County. "With the hiring of Holly Sears, the MBDC is taking the next step in its evolution, and I couldn't be more pleased. This is great news for the county's continued economic development."