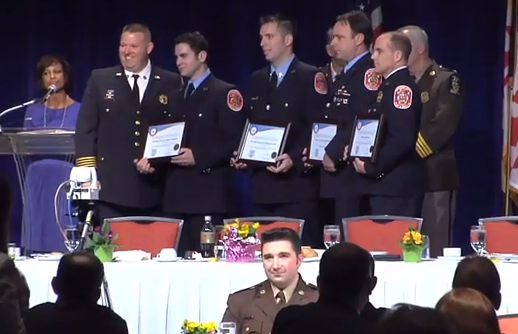 Public Safety Awards in Montgomery County (VIDEO)
The Montgomery County Chamber of Commerce hosted the 41st annual Public Safety Awards Ceremony on March 13. Over 1,200 business, government and public safety leaders attended this event to thank the brave men and women who protect our community everyday.
"Today we honor the great acts of courage, service, selflessness and kindness that truly exemplify the very best that our county has to offer," said Steve Robins, chair of the Public Safety Awards Committee and partner at Lerch, Early & Brewer, Chtd. "To all of the men and women of our public safety organizations, we are grateful for what you do each and every day and appreciate your service."
Also there to share their gratitude during the ceremony were Senator Barbara Mikulski, Congressman Chris Van Hollen, Congressman John Delaney, Montgomery County Executive Isiah Leggett, and Montgomery County Council President George Leventhal.
During the ceremony, the stories of the heroic acts by the eight Valor Award recipients were shared by emcees Tom Costello, NBC News, and Pat Lawson Muse, NBC News4:
House Fire in Rockville responders Captain Larry Murray (Gold), Fire Rescuer III William Mcginn (Silver), and Master Fire Fighter Rescuer David Shaklan (Silver)
Apartment Fire in Gaithersburg responders Captain Walter U. Stottlemyer (Silver) and Fire Fighter Rescuer III Anthony J Veith (Silver)
House Fire in Germantown responder Detective Mario Mastrangelo (Silver)
Suicide Attempt at Matthew Henson State Park in Silver Spring responder Police Officer I Alan Yuill (Bronze)
Suicide Attempt on I-270 responder Police Officer I Ryan Grzybowski (Bronze)
Showing the appreciation for the outstanding response from the unit that arrived at the scene of the Airplane Tragedy in Gaithersburg, the Public Safety Unit Citation was presented to the Montgomery County Department of Police, Montgomery County Fire & Rescue Service, and Montgomery County Sheriff's Office.
The ceremony also honored one public safety responder for his continued commitment to the community on his personal time: Deputy Sheriff William C. Debley received the MCCC Public Safety Community Service Award for his dedication to helping those in need over the past ten years.
The Federal Bureau of Investigation (FBI) Baltimore Field Office received the Public Safety Partner of the Year award for their exceptional collaboration with Montgomery County public safety, assisting with complex investigations throughout Maryland and the United States.
The Public Safety Corporate Vital Link, sponsored by TD Bank, honored a different kind of hero by recognizing Project Lifesaver International for working with public safety agencies to track and locate adults and children who wander due to Alzheimer's, autism, and other related conditions or disorders.
Prior to the Awards Ceremony, awardees and special guests met the five Public Safety Chiefs of Montgomery County at the Meet the Chiefs Reception, sponsored by Northrop Grumman, followed by the General Reception, sponsored by Airbus DS Communications.
The Annual MCCC Public Safety Awards is the largest of its kind in the region. Forty one years ago, the MCCC was chartered by Montgomery County to host an event where the community, colleagues, families, citizens and officials could honor first responders from the public safety agencies. Since the event began, MCCC has recognized 37 Gold, 132 Silver, 230 Bronze, and 168 Honorable Mentions for a total of 567 Valor Awards.
For more information on the event and award recipients, see the 41st Annual MCCC Public Safety Awards program book. For pictures from the event, click here.
Visit our PEG partner County Cable Montgomery to view more of its local programming.